Knowing the 5 Days of Diwali Celebrations and Diwali 2023 Date
The spiritual significance of Diwali helps in celebrating while appreciating the festival of lights which in 2023 falls on 12th November 2023. Diwali, also known as the "Festival of Lights," is an auspicious Hindu festival with deep spiritual origins. Therefore, understanding the spiritual significance is crucial.
It is common knowledge that the Diwali/Deepawali festival symbolizes the victory of light over darkness, the ultimate win of good over evil, and knowledge over ignorance. This blog explores the spiritual significance of Diwali and understands why this festival is so important to Indians. 
Also Read: Get the Complete Guide to Navratri Puja Vidhi in 2023: Step-By-Step Durga Puja
Diwali 2023 Date
Diwali 2023 is going to be celebrated on the date of 12th November 2023. On this day, the 15th day (New Moon) of the month of Kartik of the Hindu calendar falls. The auspicious timing for Lakshmi/Laxmi Puja Mahurat on this day is between 5:40 p.m. to 7:36 p.m. On the Diwali 2023 festival, the Amavasya tithi starts at 2:44 p.m. on November 12th and lasts until 2:56 p.m. on November 13th.
Understanding the Significance of the 5 Days of Diwali Festival
Diwali, the festival of lights,  isn't just a one-day celebration; it spans over five days, each with its unique significance. These five days are:

Day 1 – Dhanteras:

The beginning of Diwali festivities, dedicated to Goddess Lakshmi and wealth worship, fosters unity, festivity, and charity. Most people consider the buying of wealth on this Day as a sign of good luck and prosperity.

Day 2 – Naraka Chaturdashi:

Also known as Choti Diwali, it marks the triumph of Lord Krishna over the demon Narakasura. Rise early, take a bath, and perform the Puja to make the most of the blessings for this.



Day 3 – Diwali:

The main day of celebration, people light lamps, perform Lakshmi Puja or in some places Ganesh lakshmi Puja, and exchange gifts. People start cleaning and decorating their houses prior to this day and decorate their homes to "Prosper and Progress."

Day 4 – Govardhan Puja:

Devotees honor Lord Krishna's lifting of the Govardhan Hill, symbolizing the protection of nature.

Day 5 – Bhai Dooj:

The final day celebrates the bond between brothers and sisters, strengthening family ties. It's also a time to "Unite and Unify.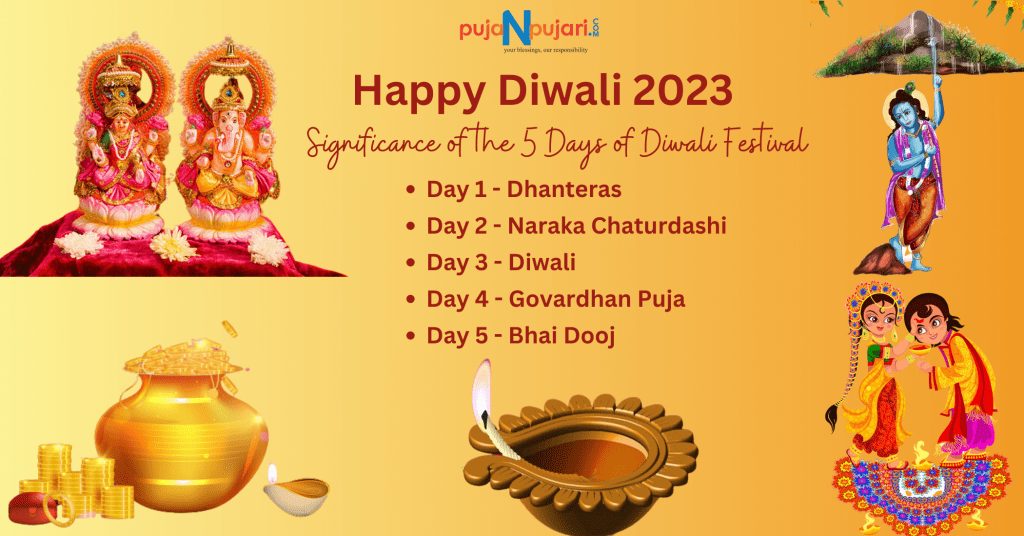 Thus, the Diwali festival kicks off with Dhanteras, marking the start of a new financial year. It's a day when people shop for valuable and useful items like gold, utensils, and decorations to spruce up their homes. 
Also Read: Navratri 2023: Best Fasting Practices – What we can eat and When to Break the Navratri Fast
The second day of the festival of lights, Naraka Chaturdasi, remembers Lord Krishna's triumph over the demon Narakasura. It's a day when lighting a diya is believed to remove any form of negativity, bringing in happiness and goodwill.
Next comes Amavasya, known as the Diwali festival itself, dedicated to Goddess Lakshmi, the deity of wealth and fortune. It is on this when Lord Ram returns to Ayodhya with Lady Sita and his half-brother Lakshman after defeating the Lankan king Raavan.
The fourth day, Govardhan Puja, holds a unique ritual where cow dung is worshiped. This day commemorates the tale from the Bhagavata Purana, where Krishna lifted Govardhan hill to shelter villagers from heavy rains.
Finally, the last day is Bhai Dooj, a day of sibling love. Sisters express their affection for their brothers and pray for their long and happy lives. It's a beautiful culmination of the Diwali festivities.
Why Diwali is Celebrated in India? Comprehending Why is Diwali Important!
As mentioned above, one of the most well-known and widely celebrated Diwali festival tales revolves around the triumphant return of Lord Rama to Ayodhya after enduring a 14-year exile and defeating the demon king, Ravana. During this exile, the malevolent king, Ravana of Lanka abducted Mata Sita, leading Lord Rama on a challenging journey to rescue her. After overcoming numerous obstacles, Lord Rama ultimately conquered Lanka and rescued his beloved wife, Sita. To celebrate this joyous victory and King Rama's return, the people of Ayodhya illuminated their kingdom with earthen diyas, exchanged sweets, and celebrated with complete devotional vigor. This cherished tradition continues to be upheld by countless individuals, making Diwali aptly known as the "festival of lights." Therefore, a lot of Diwali decoration items and decoration ideas involve extravagant use of Diyas. 
Also Read: Happy Diwali 2023: 10 Reasons to Celebrate the Festival of Lights

In the Bengali tradition, the festival of lights is referred to as Kali Puja. According to their beliefs, Maa Kali presented herself on this auspicious day alongside 64,000 Yoginis. Together, they vanquished many demons, including the Rakshasha considered to be undefeatable Rakta Beej.
During the Diwali festival, Hindus pay homage to Goddess Lakshmi, whom they regard as the deity of prosperity and wealth. The date of Diwali considered the goddess's birthday, falls on the New Moon day of the Kartik month. It is said that God Vishnu, deeply captivated by Lakshmi's divine beauty, decided to marry her on this day. The lighting of diyas during Diwali symbolizes the celebration of this divine union. Since then, the festival of lights has been observed to honor Goddess Lakshmi and seek her blessings.
Significance of Diwali Festival Tradition and Culture
Diwali, also known as Deepavali, traditionally and culturally signifies the triumph of good over evil. As we celebrate this auspicious day, we decorate our homes and pray for a joyous life. 
Amidst the myriad legends surrounding Diwali, a common thread unites them all—the victory of good over evil. It's fascinating to note that different regions of our country celebrate this festival for various reasons.
Also Read: Ayodhya Ram Mandir: History, Architecture, Significance, and How to reach the Lord Ram Temple
In the northern part of India, this day marks the joyous return of Lord Rama, his wife Sita, and his loyal brothers Lakshman and Hanuman, after a challenging 14-year exile, and their victory over the Lankan King, Raavana. Since their return coincides with a moonless night (Amavasya), it's a tradition to illuminate the darkness with the burning of earthen pots on Diwali night.
On the other hand, South Indians commemorate this occasion as the day when Lord Krishna vanquished the formidable demon Narakasura. Additionally, it holds significance as the day when God Vishnu and Goddess Lakshmi united in matrimony. Legends also speak of Goddess Lakshmi's birth on the new moon day of the Kartik month.

Some essential aspects of Diwali 2023 traditions and culture include:
Illuminating lamps and enjoying fireworks

Engaging in prayers and worship

Exchanging sweets and heartfelt gifts

Embracing traditional attire

Reuniting with loved ones for a festive feast

Participating in Deepavali fairs and savoring cultural performances

Demonstrating generosity through donations and celebrating with those in need.
Enhance the festive spirit with creative decoration ideas and essential items such as diyas, rangoli, and toran. You can easily find the diyas, rangoli, and toran for Diwali and other puja and home decor items on PujaNPujari. Decorate your home to welcome the divine light and blessings.
Conclusion
Embrace the spiritual essence of Diwali in 2023, guided by its deep spiritual origins and significance. Puja N Pujari is here to help you celebrate this festival with devotion and joy. Light up your life with the radiance of Diwali and spread love and positivity around. Happy Diwali!
Summary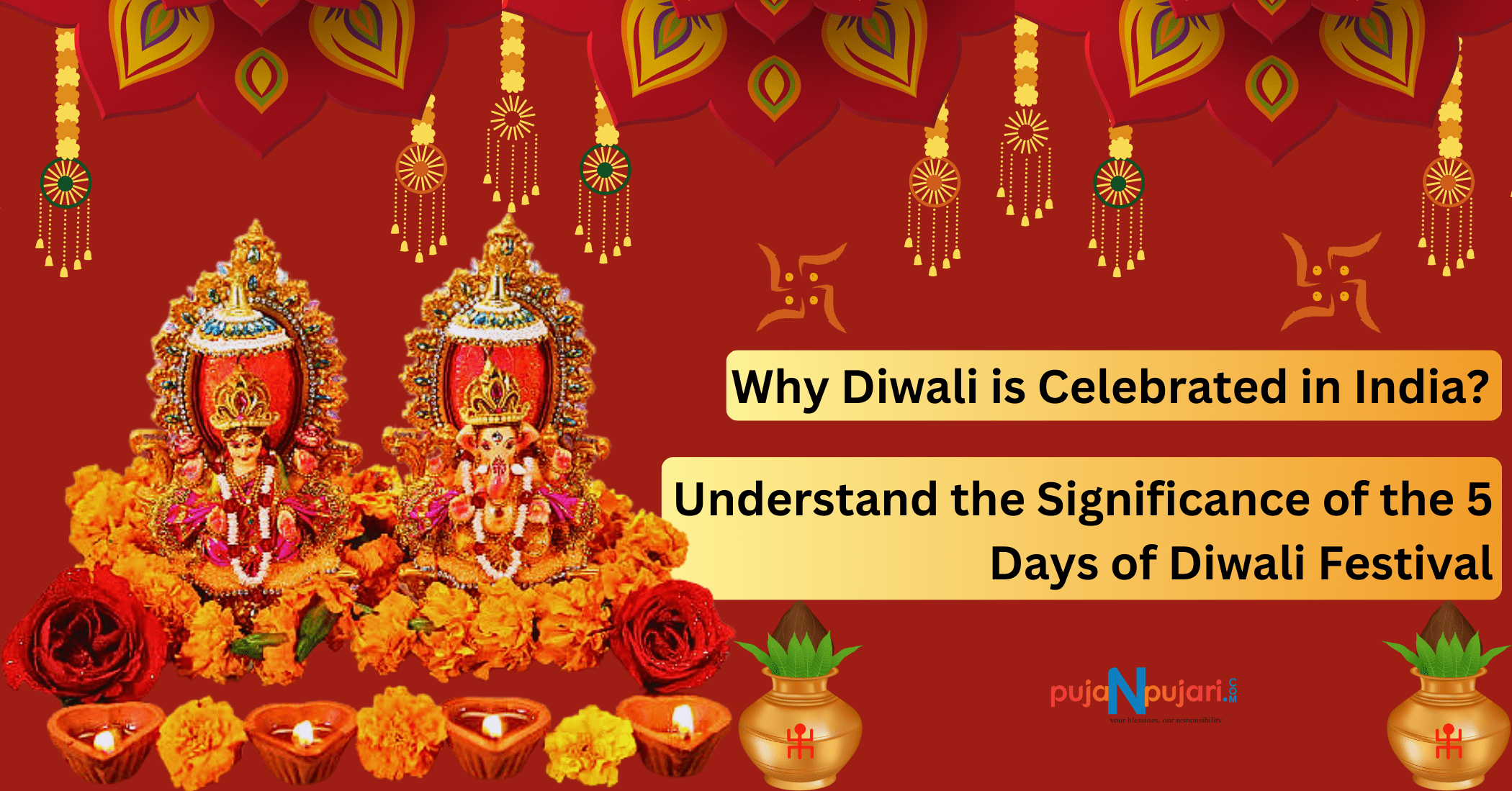 Article Name
Spiritual Significance of Diwali: Appreciating the Festival of Lights in 2023
Description
Understand spiritual significance of Diwali Victory of Light over Darkness. Know the Diwali festival 2023 date and wish you a happy Diwali.
Author
Publisher Name
Publisher Logo