Exploring Navratri 2023: Fasting Recipes, Benefits, and Puja Rituals
Fasting during Navratri is a cherished tradition in India. Know the best fasting practices filled with devotion what we can eat and when to break the Navratri fast. The spirituality, and culinary creativity of the food of Navratri 2023 from dates 15th October to 23rd October followed by Dussehra 2023 falling on the date of 24th October 2023. 
In this blog, we will discover the reasons for fasting during Navratri, the common mistakes to avoid, and the numerous benefits of the Navratri fast. You will know what to eat during the Navratri fast and the appropriate time to break the Navratri fast.
Also read: Get the Complete Guide to Navratri Puja Vidhi in 2023: Step-By-Step Durga Puja
Why Fast During Navratri?
Navratri, which means 'nine nights,' is dedicated to the worship of Goddess Durga and her nine avatars, colloquially and culturally known as NavDurge. The Puranas and texts like 'Navratri Vrat Katha' tell us about the importance of 'nirjal' (without water) and 'nirahar' (without food) 'vrat' or fasting during the nine days. This sacred fasting ritual aims to elevate both the body and mind, and it is believed to ensure a long and prosperous married life for devotees.

Navratri Fasting: The Spiritual Journey
The Navratri fasting starts on the first day i.e. in 2023 on 15th October and continues through the seventh or the eighth day. In the other scenario, devotees break the Navratri fast on the ninth day, i.e. the Navami. For those observing a partial Navratri vrat, the ritual involves breaking the fast after the evening puja.
Also read: Ayodhya Ram Mandir: History, Architecture, Significance, and How to reach the Lord Ram Temple
Important to note is that during this period, devotees abstain from consuming meat, fish, eggs, alcohol, onions, garlic, dishes made with common salt, or any kind of spice. Some individuals sustain themselves on a diet of only milk, fruits, and fruit juices for the entire duration of the fast. Additionally, milk products and dry fruits can also be consumed. 
Navratri rules also emphasize maintaining a calm temperament i.e. not being angry, performing virtuous actions, and conducting positive behavior, which is boosted by following a strict vegetarian diet.

What to Eat During Navratri Fast?
What to eat during the Navratri fast is a common question for all folks. It should be noted that while fasting, it is essential to have the choice of foods that are relevant to the spirituality, devotion, and philosophy of the festival. Include fruits, milk, nuts, and fasting-friendly ingredients like kutu(/buckwheat), sabudana(/tapioca pearls), and potatoes in your diet. These are some of the common, most followed options that adhere to Navratri guidelines. They provide essential nutrients while ensuring that your fast doesn't get broken.
Also read: Happy Diwali 2023: 10 Reasons to Celebrate the Festival of Lights
When to Break Navratri Fast?
When it comes to breaking your Navratri fast, timing plays an important role. Typically the devotees break their Navratri fast only after performing the evening puja. After the evening puja, a meal is provided in the form of 'prasad'. Follow a calendar and know about the auspicious timings for breaking Navratri fast as it changes every day.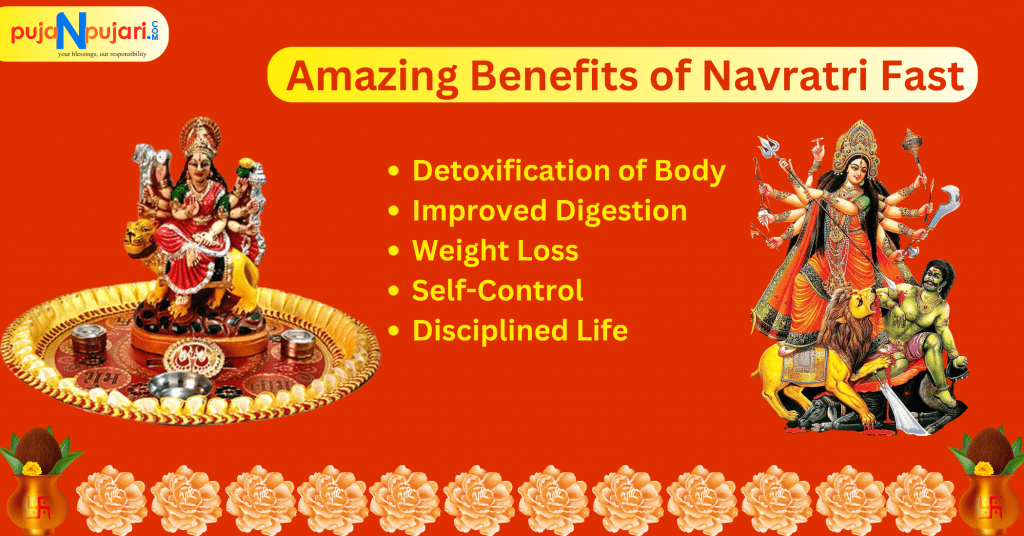 Benefits of Navratri Fasting
There are plenty of benefits of Navratri fasting. Navratri fasting can bring positive impacts on your health as well as some spiritual benefits. It helps in detoxification of your body, improves digestion, and helps in weight loss. Restricting your doubt brings the habit of self-control and discipline to the person who observes the Navratri fast.
Navratri Puja and Fast: A Sacred Journey
To make the most of your Navratri fasting experience, it is very important to perform the puja rituals with complete devotion and disciplined sincerity. A combination of fasting, prayers, and cultural festivities fills the air with an aura of divinity. If you are looking for a place to get yourself ready for Navratri celebrations with devotion, consider visiting Puja N Pujari, your one-stop destination for all your puja needs, authentic puja services, and quality home decor products.
Also read: Mark Calendar for Ganesh Chaturthi 2023: Date, Visarjan, and Puja Vidhi
As we conclude, Navratri fasting is not just about a dietary practice but a spiritual journey filled with devotion and self-discovery. As you follow the right practices, savor the delicious fasting recipes, and understand when to break your Navratri fast, you can make the most of the auspicious festival. The benefits of the Navratri fast are both physical and spiritual. May your devotion during Navratri fasting be rewarded.

In conclusion, Navratri fasting is not just a dietary practice but a spiritual journey filled with devotion and self-discovery. By following the right practices, savoring delicious fasting recipes, and understanding when to break your Navratri fast, you can make the most of this auspicious period. Embrace the benefits of the Navratri fast, both physical and spiritual, that Navratri fasting offers, and may your devotion be rewarded.
Summary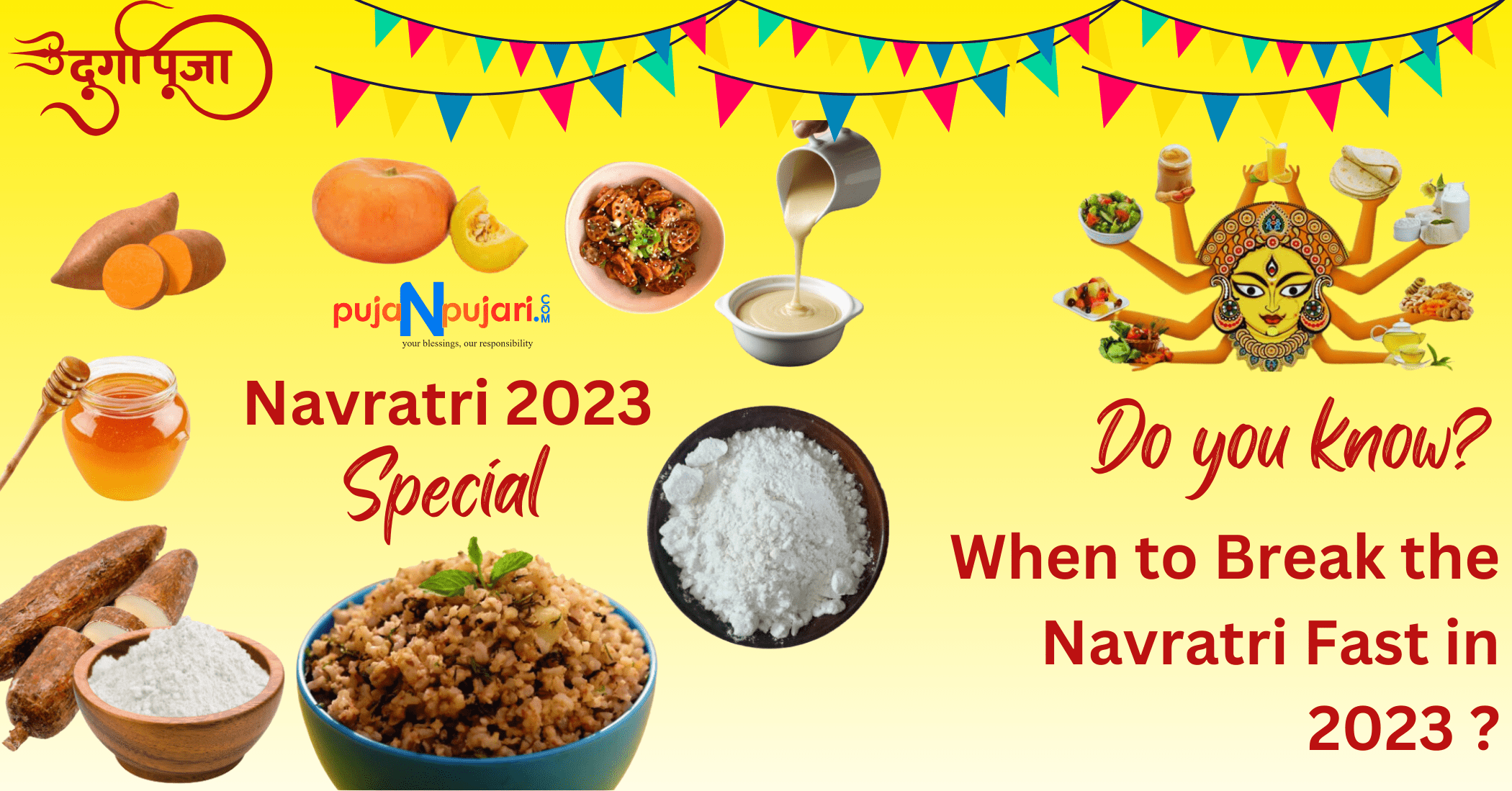 Article Name
Navratri 2023: Best Fasting Practices - What we can eat and When to Break the Navratri Fast
Description
Navratri 2023 date: Learn the best fasting practices, when to break the Navratri fast, and explore Navratri fasting recipes for a sacred experience. Puja N Pujari is your trusted companion for puja needs.
Author
Publisher Name
Publisher Logo