Diwali Festival Date, Decorations, and Spiritual Significance Across India
First of all, Wish You a Very Happy Diwali 2023. We will look at the 10 reasons to celebrate the Festival of Lights and understand the spiritual significance of Diwali festival and celebrations across India. Find out when is Diwali in 2023, the date, timings, and much more.
From the origin stories of Diwali, the festival of lights, to the spectacular Diwali decorations [Puja and decoration items now available online on Puja N Pujari.], We'll explore the spiritual significance of Diwali and how it becomes a uniting factor for people across India.
Also read: Ayodhya Ram Mandir: History, Architecture, Significance, and How to reach the Lord Ram Temple
Puja N Pujari is excited to be part of this grand celebration and offer the best Diwali decoration items like toran for Diwali. Join us as we illuminate the spiritual significance of the Diwali festival and why it holds a special place in all our hearts. 
Diwali Festival Date – A Momentous Occasion
Diwali, the festival of lights, holds a special place in the hearts of millions of people across the globe. According to the Hindu calendar, Diwali falls on the 15th day of Kartik, every year. In 2023, Diwali will be celebrated on the 12th of November, a Sunday. Notably, Diwali is observed as a Holiday throughout the nation, allowing families to come together and rejoice in its splendor.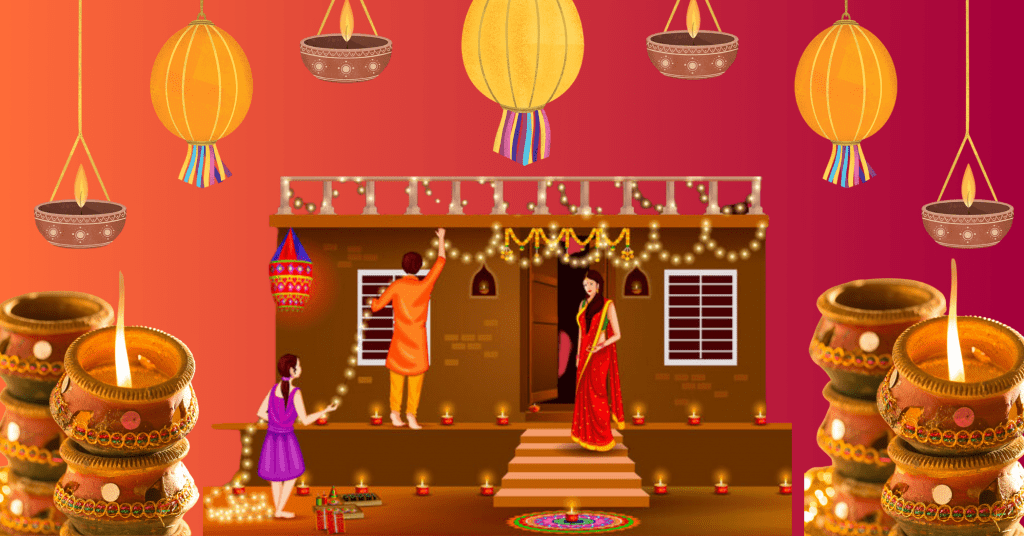 5-Day Diwali Celebrations – A Grand Spectacle
Diwali isn't just a one-day affair; it's a glorious five-day celebration. Each day during this festival of lights has its unique significance and customs:
Day 1: Dhanteras (November 10th, 2023):

Dhanteras marks the beginning of the

Diwali festival

, celebrating wealth, prosperity, and new beginnings. It's a day for cleaning homes, buying new clothes, and acquiring gold and silver, seen as auspicious on this day.

Day 2: Choti Diwali/Kali Chaudas/Narak Chaudas/Roop Chaudas/Narak Nivaran Chaturdashi/Bhoot Chaturdashi (November 11th, 2023):

Choti Diwali sets the stage for the grand

festival of lights

ahead. Homes come alive with vibrant

Diwali decorations items

, rangoli designs, and the illumination of oil lamps.

Day 3: Diwali (November 12th, 2023):

The main day of Diwali sees families dressed in new clothes, gathering for prayers and pooja. The auspicious Puja Mahurat falls for Diwali 2023 date of 12

th

November between 05:40 pm and 07:36 pm, followed by the exchange of gifts, lighting of diyas, and a feast of special cuisines and sweets.

Day 4: Govardhan Pooja and Padwa (November 13th, 2023):

Govardhan Pooja celebrates Lord Krishna's divine intervention, emphasizing environmental conservation. Padwa strengthens the bond between spouses and marks the start of new business accounts.

Day 5: Bhai Duj (November 14th, 2023):

Bhai Duj celebrates the beautiful bond between brothers and sisters, a time to express love, gratitude, and blessings.
Also read: Get the Complete Guide to Navratri Puja Vidhi in 2023: Step-By-Step Durga Puja
This year, the Diwali festival will be celebrated on Sunday, November 12, 2023, making it an even more special occasion. Remember, the most auspicious time for worship or Lakshmi/Laxmi Puja Mahurat of Diwali in 2023 is from 05:40 pm to 07:36 pm, so mark your calendars!

Spiritual Significance of Diwali – A Time for Reflection
The festival of lights, Diwali is not just about festivities; it's a time for spiritual reflection and gratitude. It symbolizes several significant events, the 10 Reasons to Celebrate the Festival of Lights including:
Rama's return to Ayodhya after defeating Ravana:

According to the Hindu epic Ramayana, Lord Rama, along with his brother Laxmana and wife Sita, returned to Ayodhya after spending 14 years in exile following the defeat of the demon king Ravana.

Krishna's victory over Narakasura:

In Dwapara yuga, Lord Krishna, an avatar of Lord Vishnu, defeated the demon Narakasura, who held 16,000 girls in captivity. This victory is celebrated in various regions, including parts of Assam and southern Tamil and Telugu communities.

The Pandavas return to Hastinapur:

The five Pandava brothers, after being tricked into losing a bet and banished by their Kaurava cousins for 12 years, returned to Hastinapur on Kartik Amavasya, as per the Hindu epic Mahabharata.
Additionally, Diwali also marks the birth of Goddess Lakshmi, believed to have emerged from the churning of the cosmic ocean of milk by the gods and demons. On Diwali night, she chose Lord Vishnu as her husband and married him. Also, Lord Vishnu, in his fifth Vaman-avatar, rescued Goddess Lakshmi from the prison of King Bali, who was banished to rule the netherworld.

Diwali also celebrates 
Bandi Chhor Diwas:

In Sikhism, Diwali is associated with the release of Guru Hargobind and 52 other Hindu kings from captivity by Mughal emperor Jahangir.

Mahavira Nirvana Diwas:

In Jainism, Diwali commemorates the anniversary of the Nirvana of Mahavira's soul, the 24th and last Jain Tirthankara of the present cosmic age. Mahavira attained moksha (liberation) on Chaturdashi of Kartik month.

Maharshi Dayananda Attained Nirvana:

On the new moon day of Kartik, Maharshi Dayananda, founder of Arya Samaj, attained Nirvana. 
Also Read: Navratri 2023: Best Fasting Practices – What we can eat and When to Break the Navratri Fast
It honors King Vikramaditya's (known for known for his generosity, courage, and patronage of scholars.) coronation and Kali Puja in various regions. The day of the incarnation of Kamalatmika, the last manifestation of goddess Mahakali, is celebrated as Kamalatmika Jayanti. It falls on Diwali day and is observed in various regions, including Bengal, Mithila, Odisha, Assam, Sylhet, Chittagong, and Titwala in Maharashtra.
Lastly, it signifies the end of the harvest season. As per popular belief, Diwali may have originated as a harvest festival, marking the last harvest of the year before the start of Winter. In western states like Gujarat and some northern Hindu communities, Diwali signifies the start of a new year, symbolizing fresh beginnings and prosperity.

Conclusion
In conclusion, Diwali is a multifaceted festival that encompasses spiritual significance, cultural heritage, and the joy of unity. As we anticipate Diwali 2023, Puja N Pujari is delighted to be a part of your celebrations by offering the finest Diwali decoration ideas, toran for Diwali, and more. Join us in celebrating the festival of lights, and may this Diwali illuminate your life with happiness, prosperity, and love.
Summary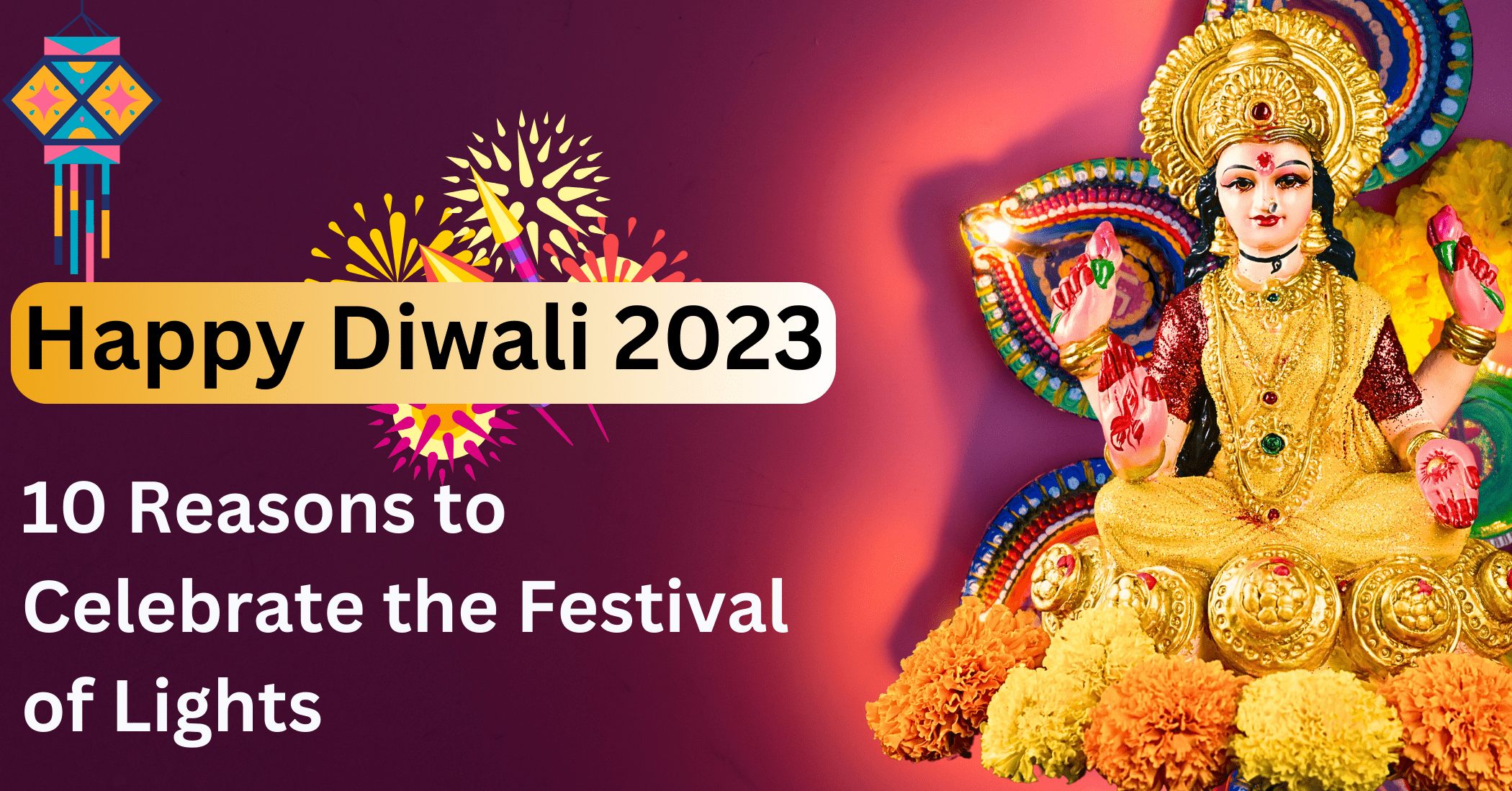 Article Name
Happy Diwali 2023: 10 Reasons to Celebrate the Festival of Lights
Description
Happy Diwali 2023: Discover 10 Reasons to Celebrate the Festival of Lights. Explore Diwali 2023 festival date, spiritual significance, decorations, and more
Author
Publisher Name
Publisher Logo