How to Do Navratri Puja at Home with Kalash Sthapana Vidhi and More
Navratri, a time of devotion and celebration, brings the joy of Navratri Golu dolls and the significance of Navaratri Golu. For beginners, understanding Navratri puja vidhi and Durga puja vidhi can be a spiritual journey. Join us as we unravel the step-by-step process of Navratri puja, including the Kalash sthapana vidhi, and explore the Navratri puja samagri list.
Navratri is a time of divine blessings, and performing Navratri puja at home can deepen your connection with the Goddess. In this comprehensive guide, we'll take you through each step of the Durga Puja with detailed explanations to make it accessible even for beginners. So, let's embark on this spiritual journey together!
Navratri Date and Time
Before we go to the puja vidhi, let's first mark our calendars for Shardiya Navratri, which falls in the month of Ashwin. This year, Shardiya Navratri begins on Sunday, October 15, 2023, and spans nine auspicious days, concluding on October 24, 2023, with the celebration of Dussehra. Known as Maha Navratri, it is the most significant among all Navratri festivals. Ghatasthapana, the ritual of Kalash Sthapana, takes place on the first day of Shardiya Navratri, and it's crucial to observe this auspicious time.
Also read: Navratri 2023: Best Fasting Practices – What we can eat and When to Break the Navratri Fast
In accordance with the Hindu calendar, the auspicious timings for Shardiya Navratri 2023 are as follows:

The Shubh Muhurat will commence at 11:44 AM and conclude at 12:30 PM on October 15.

The Pratipada Muhurat will commence on Saturday, October 14th at 11:24 PM and conclude by 12:32 AM on Monday, October 16th.

The Ghatasthapana Muhurat will commence at 11:44 AM and conclude at 12:30 PM on October 15th, 2023.
Also read : Mark Calendar for Ganesh Chaturthi 2023: Date, Visarjan, and Puja Vidhi
Navratri 2023 Muhurat

Shardiya Navratri 2023 start date

Sunday, 15 October 2023

Shardiya Navratri 2023 End date

Tuesday, 24 October 2023

Shubh Muhurat

11:44 AM to 12:30 PM on October 15

th

Pratipada start

11:24 PM on Saturday, October 14

th

Pratipada end

12:32 AM on 15

th

October 2023

Ghatasthapana muhurat

11:44 AM to 12:30 PM on 15

th

October 2023
Kalash Sthapana Vidhi
On the first day of Navratri, also known as Pratipada, start your day with a morning bath. After cleaning the temple area, begin by invoking Lord Ganesha's blessings, followed by lighting an uninterrupted flame dedicated to Maa Durga.
To establish the Kalash, begin by filling an earthen pot with soil and sowing barley seeds in it. Create a swastika symbol on a copper pot using vermillion. Tie a Molly (a sacred thread) in the upper part of the pot. Next, fill the pot with water and add a few drops of Gangajal (holy water from the Ganges).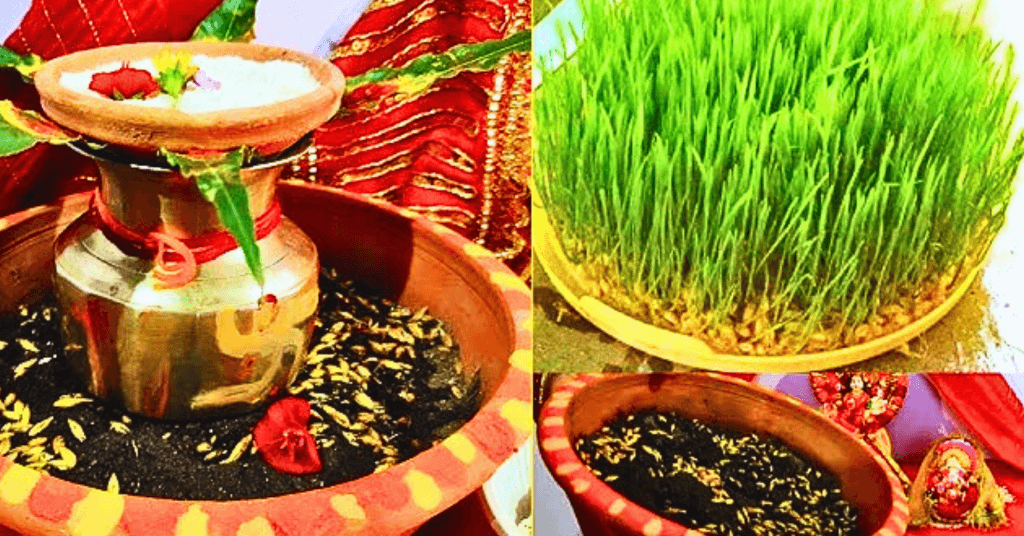 Now, place one and a half rupees, doob (grass), betel nut, perfume, and Akshat (unbroken rice grains) into the Kalash. Add five leaves of Ashoka or Mango into the Kalash as well. Wrap a coconut with a red cloth and tie it with Molly. Place this coconut on top of the Kalash.
Also read: Happy Diwali 2023: 10 Reasons to Celebrate the Festival of Lights
Position the Kalash precisely in the middle of the earthen vessel where you've sown the barley. Establishing the Kalash symbolizes your commitment to observing the nine fasts of Navratri. Optionally, you can also light an uninterrupted flame in the name of the Divine Mother along with the Kalash installation.
Navratri Puja Samagri List
To perform Navratri Puja, you'll need a set of essential items, including conch shell, vermilion, roli, molly, camphor, dhoop, red flower or wreath, supari sabut (areca nut), turmeric knot patra, asan, chowki, panchmeva, nutmeg, mace, kamalgatta, naivedya, batasha, honey, water, sugar, coconut, and Gangajal. Make sure to have these items ready in your home as you prepare for this auspicious occasion.
As you gather these essential Navratri Puja Samagri, you'll be well-prepared to embark on the spiritual journey of Navratri Puja, deepening your connection with Goddess Durga.

Puja Vidhi: A Step-By-Step Guide
Dhyana and Avahana:

Begin your puja with meditation and invoking Goddess Durga. Chant the Mantra while showing Avahan Mudra, symbolizing the invitation of the Goddess.

Asana:

Offer five flowers to create a seat for Goddess Durga, reciting the accompanying Mantra.

Padya Prakshalana:

Wash the Goddess's feet with water while chanting the respective Mantra.

Arghya Samarpan:

Offer scented water to the Goddess, reciting the Mantra, as a symbol of respect.

Achamana Samarpan:

Present water for Achamana, a ritual cleansing, and chant the relevant Mantra.

Snana:

Offer water for Goddess Durga's bath, invoking her blessings with the Mantra.

Vastra:

Adorn the Goddess with Moli as new clothes, reciting the appropriate Mantra.

Abhushana Samarpan:

Offer jewelry to Goddess Durga, accompanied by the following Mantra.

Chandan Samarpan:

Present Chandan (sandalwood paste) with the associated Mantra.

Roli Samarpan:

Offer Roli (Kumkuma) to Goddess Durga, symbolizing Akhand Saubhagya, while chanting the Mantra.

Kajjalarpan:

Apply Kajal (kohl) to the Goddess while reciting the Mantra.

Mangal Dravyarpan:

Offer auspicious items to Goddess Durga, invoking her blessings.
          Saubhagya Sutra: Tie the sacred thread (Saubhagya Sutra) while reciting the Mantra.
          Sugandhit Dravya: Present fragrant items to the Goddess with devotion.
          Haridra Samarpan: Offer turmeric (Haridra) to Goddess Durga, reciting the Mantra.
          Akshata Samarpan: Present unbroken rice grains (Akshata) to the Goddess.

Pushpanjali:

Offer a bouquet of flowers to Goddess Durga while chanting the Mantra.

Bilvapatra/Belpatra:

Place Bilvapatra/Belpatra (Bael leaf) before the Goddess, invoking her blessings.

Dhoop Samarpan:

Offer incense (Dhoop) to please the Goddess.

Deep Samarpan:

Illuminate the puja with the light of a lamp while chanting the Mantra.

Naivedya:

Offer a specially prepared dish (Naivedya) to the Goddess.

Rituphala:

Present seasonal fruits (Rituphala) to Goddess Durga.

Achamana:

Conclude with another Achamana offering to purify.

Narikela Samarpan:

Offer a coconut (Narikela) to Goddess Durga.

Tambula:

Present Tambula (Paan with betel nuts) as a symbol of devotion.

Dakshina:

Offer Dakshina (gift) to Goddess Durga.

Pustak Puja and Kanya Pujan:

Perform rituals for books and light a lamp, followed by Kanya Pujan.

Nirajan:

Conclude with the Goddess Durga Aarti.

Pradakshina:

Perform symbolic circumambulation with flowers.

Kshamapan:

Seek forgiveness for any mistakes during the puja with humility.
Celebration and Significance of Navratri Golu
Navratri, the festival dedicated to the Divine Mother, unfolds its vibrant tapestry of celebrations across India's diverse regions.
In the heart of the nation's capital, Delhi, and the entire North Indian region the fervor of Navratri is showcased through the colourful performances of Ramlila. Various events and performances vividly depict the epic tales of Lord Rama, marking the festive spirit.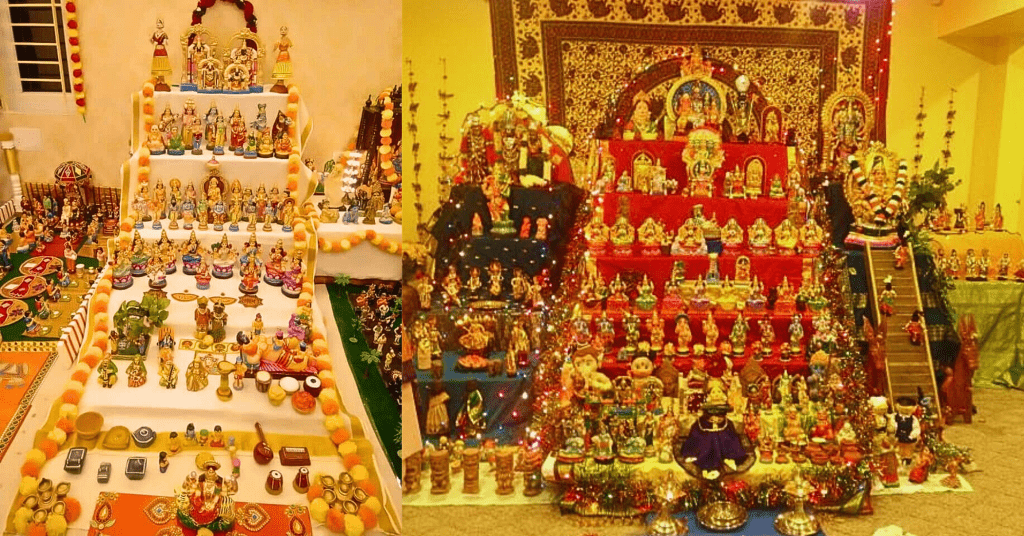 Although identified with the eastern state of West Bengal but widely popular in East and North-East India,  Navratri is symbolized by the grandeur of Durga Puja. Elaborate pandals and artistic idols of Goddess Durga adorn the streets, capturing the essence of the festival.
The western state of Gujarat reverberates with the beats of Garba and Dandiya dances. The nights come alive as people come together to whirl and twirl in devotion, celebrating Navratri with unbridled enthusiasm.
Also Read: Ayodhya Ram Mandir: History, Architecture, Significance, and How to reach the Lord Ram Temple
Down south, Navratri takes the form of Bommai Golu, also known as Navratri Golu. It's an artistic display of dolls that depict scenes from revered Indian stories, including the Ramayana, Puranas, and Dashavataram. This tradition offers a unique opportunity to revisit the timeless lessons woven into these age-old narratives.
The Navratri Golu isn't just an artistic showcase; it's a journey through time and culture. The steps of the Golu can be interpreted as an evolution ladder, symbolizing the ongoing journey of life. Each doll, each scene, holds a story, a moral, and a connection to our rich heritage.

As Navratri dawns, it's not merely a festival; it's a celebration of India's rich tapestry of cultures, traditions, and stories.
Conclusion
As you perform these sacred steps of Durga Puja during Sharadiya Navratri, may the blessings of Goddess Durga fill your home with joy, prosperity, and spiritual enlightenment. For all your puja needs during this auspicious season, trust Puja N Pujari, your partner in spiritual devotion.
Frequently Asked Questions
How to do simple puja in Navratri?
Ans: To perform a simple Navratri puja at home, follow these steps: Begin by arranging the required Navratri puja samagri list. Then, perform Kalash sthapana vidhi by placing the sacred Kalash in your puja area. Light a glowing lamp and offer Red Jaggery Flower and coconut to Goddess Durga while chanting the Durga puja vidhi. Conclude by seeking the blessings of the Goddess for a harmonious and prosperous life.
What to do at home during Navratri?
Ans: During Navratri, you can create a spiritually enriching environment at home by performing daily Durga puja using Navratri puja vidhi. Decorate your home with Bandhanwars to ward off negativity and embrace positivity. Engage in devotional practices, such as singing bhajans and reciting mantras, while observing a fast and offering naivedyam to Goddess Durga to enhance your connection with the divine.

How to do Durga puja at home daily?
Ans: Performing daily Durga puja at home is a cherished tradition. Start by creating a sacred space with a beautiful idol or image of Goddess Durga. Follow the Durga puja vidhi by offering flowers, diya (lamp), and naivedya to the Goddess. Chanting mantras and singing devotional songs during the puja enhances the spiritual experience. Regular devotion and sincerity are key to maintaining this daily practice.
What do we need for Navratri pooja?
Ans: To conduct a Navratri pooja at home, you will need the following items from the Navratri puja samagri list: Kalash, diya, flowers, coconut, Red Jaggery Flower, and naivedya ingredients. Ensure you have Bandhanwars for home decoration. Follow Kalash sthapana vidhi and Durga puja vidhi to perform the puja with devotion and reverence.
Summary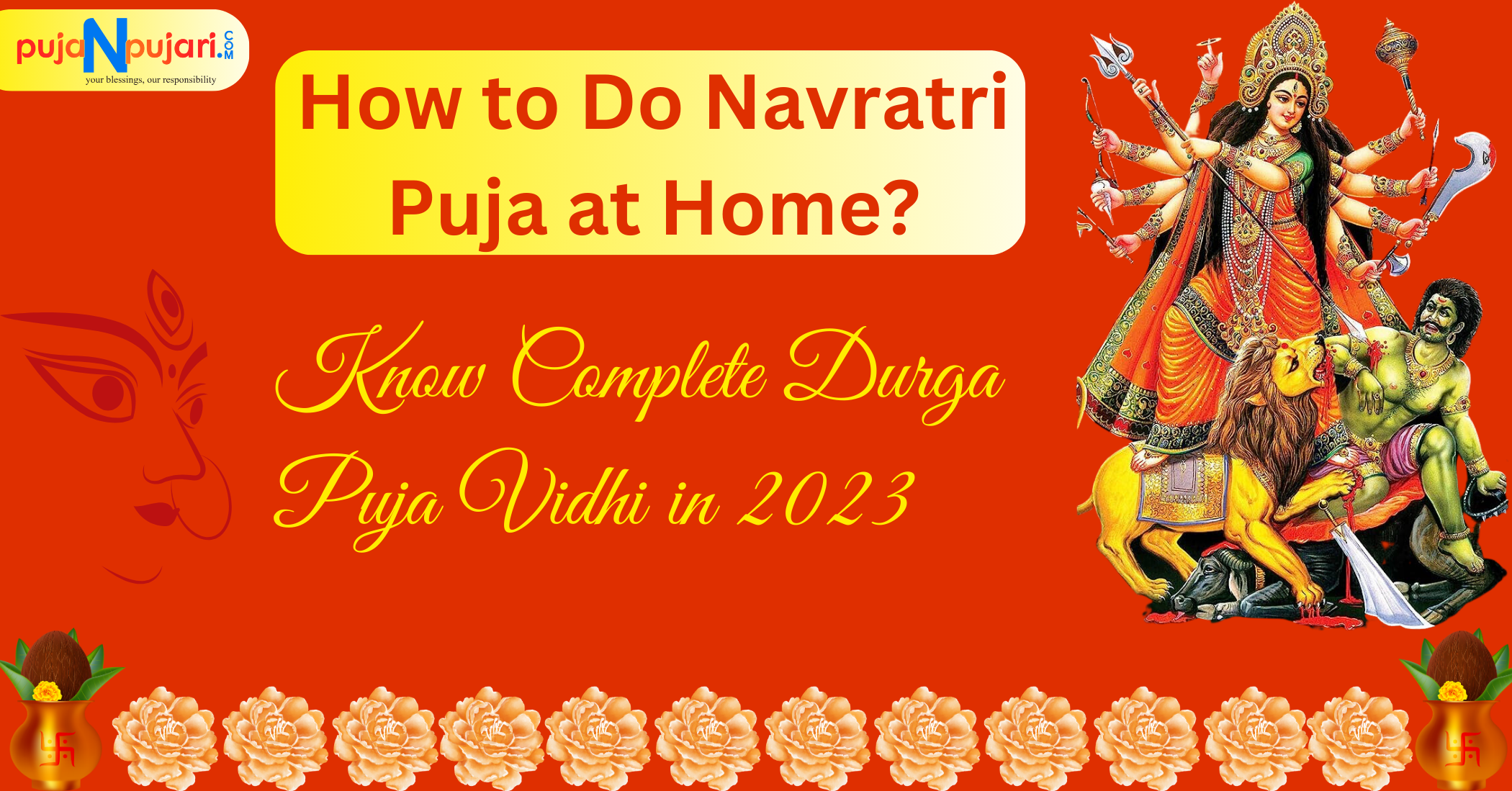 Article Name
Get the Complete Guide to Navratri Puja Vidhi: Step-By-Step Durga Puja
Description
Get the complete guide to Navratri Puja Vidhi, including Durga Puja, Kalash Sthapana Vidhi, and Navratri Puja samagri list and doing Navratri Puja at home.
Author
Publisher Name
Publisher Logo