Sankashti Chaturthi, a holy Hindu festival, is held in honor of Lord Ganesha, the god of prosperity and the remover of obstacles. Let's look at the dates, times, history, significance, and vrat (fasting) rituals procedure related to Sankashti Chaturthi as we get closer to 2023. In Hindu culture, this joyous occasion is of utmost significance and offers believers a chance to ask for Lord Ganesha's blessings.
Dates of Sankashti Chaturthi in 2023
There will be several opportunities for devotees to observe this vrat in 2023 since Sankashti Chaturthi falls on various dates throughout the year. The following dates will be noteworthy for Sankashti Chaturthi in 2023:
| | | | |
| --- | --- | --- | --- |
| January-08 | February-07 | March-09 | April-07 |
| May-06 | June-07 | July-04 | August-02 |
| September-29 | October-29 | November-27 | December-27 |
Background and Meaning of Sankashti Chaturthi
Hindu mythology holds that Sankashti Chaturthi was designated as a special day in honor of Lord Ganesha. Keeping this vrat with sincerity and devotion is believed to help people succeed, overcome challenges, and get rewards. For those seeking prosperous beginnings, academic achievement, or the removal of any obstacles in their lives, Sankashti Chaturthi is of utmost importance.
Vrat Procedure for Sankashti Chaturthi: Devotees must follow certain rites and practices as part of the vrat procedure for Sankashti Chaturthi. The vrat process is outlined as follows:
1. Getting ready for the Vrat:
Bathe or shower to cleanse oneself. Put on clean, new clothing.
Adding flowers and other lucky objects to the puja area can turn it into a hallowed sanctuary.
2. Ganesha Puja:
Invoke Lord Ganesha and ask for his blessings before starting the ritual.
Offer the deity a lamp or diya that has been lit.
Present chocolates, fresh flowers, and fruit as a token of your devotion.
Recite Ganesha-related prayers, mantras, and hymns.
Chant the tale that explains the meaning of the vat, the Sankashti Chaturthi Vrat Katha.
Sing hymns and do aarti (the ritual of waving a lamp).
3. Observance of Vrat:
From the sun's rising to the moon's rising, keep fast by avoiding food and liquids.
During the vrat, devotees might eat fruits, milk, or light meals.
Take the time to meditate, recite, and consider Lord Ganesha's blessings.
Avoid having any unwholesome thoughts, words, or deeds.
4. Moonrise and the end of the Vrat:
Break the fast by ingesting water or a ceremonial offering after spotting the moonrise.
Gratitude is expressed to Lord Ganesha for his guidance and blessings.
Ask for his ongoing assistance in overcoming challenges and succeeding.
Summing Up
In conclusion, worshippers can connect with Lord Ganesha and ask for his blessings on Sankashti Chaturthi in 2023. You can check more about it over PujaNPujari. People can overcome challenges, find prosperity, and advance spiritually by practicing this vrat with commitment and sincerity.
Fasting and the Ganesha puja are part of the great ritual, strengthening the devotee's devotion and dedication while fostering a close bond with the deity. May everyone who celebrates Sankashti Chaturthi in 2023 experience happiness, success, and fulfillment as they seek Lord Ganesha's heavenly blessing.

Frequently Asked Questions
Does Sankashti Chaturthi come every month?
Ans: Yes, Sankashti Chaturthi comes every month. Every month during the fourth day of Krishna Paksha Sankashti Chaturthi is celebrated. All of the twelve different sankashti Chaturthi are known by different names such as Vikat Sankashta Chaturthi, Angkari Sankashti Chaturthi, and many more. The sankashti Chaturthi on June 7th is the Krishnapingala Sankashti Chaturdashi.
Which Sankashti Chaturthi is the best?
Ans: Angarki Sankashti Chaturthi is considered to be the most auspicious of all the Sankashti Chaturthi. In 2023, there was only one Angarki Sankashti Chaturthi which happened was celebrated on January 10th.
What to eat during Sankashti Chaturthi fast (~vrat)?
Ans: It differs from person to person and depends on the age of the person as well. Some people do not eat or drink anything while following the fast. Some people consume fruits during the fast. At last, the fast is broken after the moonrise and is broken by eating kheer or pysum.
What are the benefits of Sankashti Chaturthi Vrat?
Ans: Sankashti Chaturthi fast is observed as a devotion to Lord Ganesh and to receive his blessings. It is said that fasting on this day brings knowledge, health, wealth, and happiness to the person who performs the fast. As per Shiva Purana, performing Sankashta Chaturthi with full faith and devotion removes all the obstacles from the path.
Summary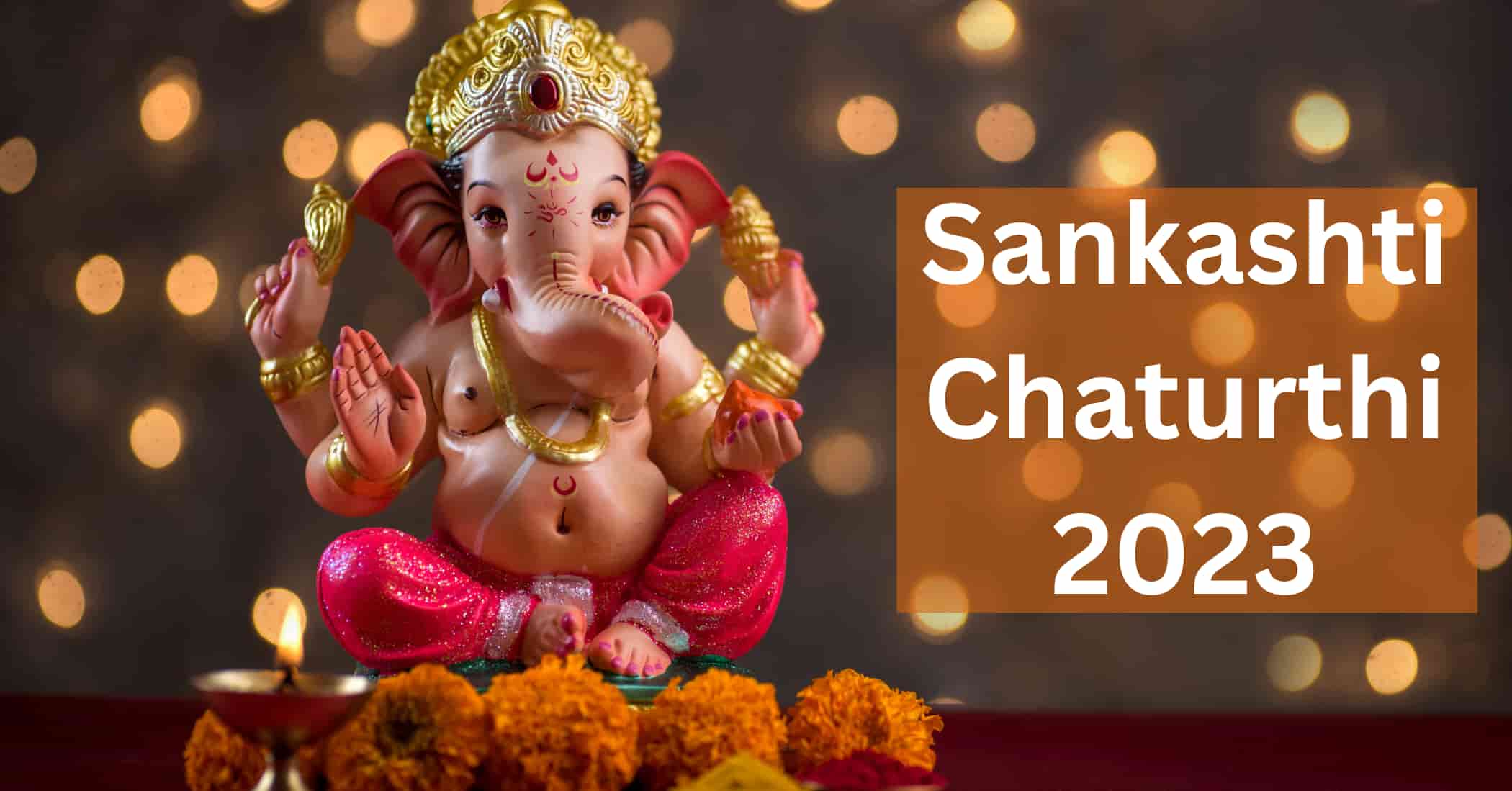 Article Name
Sankashti Chaturthi 2023 List of Dates and Times -Complete Guide
Description
Sankashti Chaturthi 2023: Worship Lord Ganesha for a smooth year ahead. Fast, pray, and offer prayers this year - A complete guide.
Author
Publisher Name
Publisher Logo