India is a land of beautiful stories. When we observe and listen to these stories carefully, we realize their depth and sense that we have much to learn from them. 
The ancient temple of India in the southern region stands tall to tell these tales passed down through the generations. One such beautiful temple is of goddess Padmavathi, located in Tiruchanur.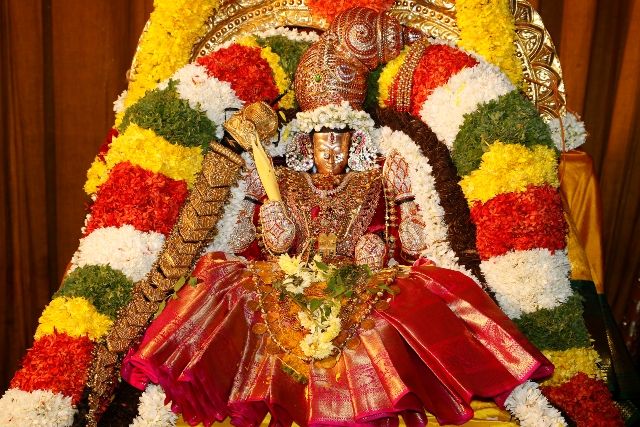 The divine consort of Shree lord Venkateswara, goddess Padmavati Devi, is seated majestically holding two Lotus in her upper hands, while her lower hands are in Abhaya mudra and vara pradhana mudra. While the abhaya mudra ensures the protection of her devotees, the vara mudra ensures she fulfills all her devotee's positive desires.
Devotees throng the temple across seasons to offer sevas and their prayer for wish fulfillment. A visit to Tirupati is incomplete without visiting the goddess at Thiruchanur. According to local folklore, the localities say, a perfect way to ensure lord Venkateswara listens to your prayers is by offering the same to goddess Padmavati Devi. The legends also have the lord saying to goddess Padmavati that she is more merciful to her devotees than him when fulfilling the devotee's prayers.
If you are visiting Tirupati, do not miss seeing the goddess whose story is as magical as it can be.
History of Tiruchanur Temple
The mythological story of goddess Padmavati has a backdrop story that reasons her birth in the mortal world. 
Long ago, holy sages under sage Bhrigu were performing yagnya. When they could not decide who should benefit from the yagnya, lord Narada suggested visiting the Trimurti to find the most worthy of it. Pleased with the recommendation, sage Bhrigu started his travel immediately.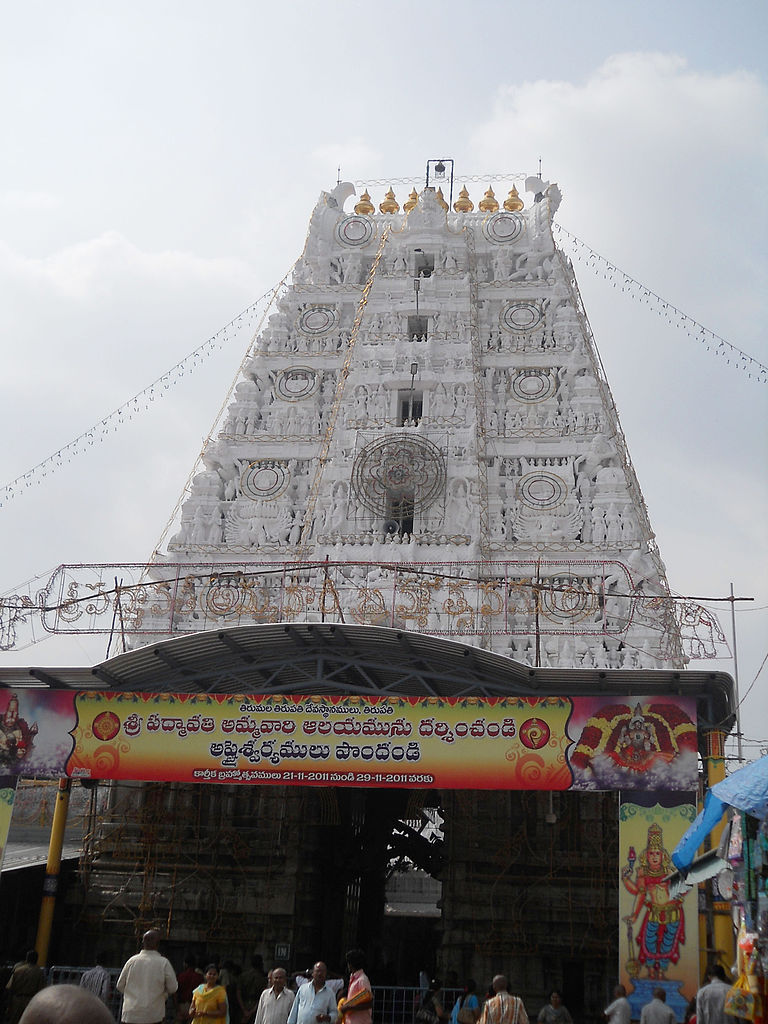 His arrival was ignored by Brahma and Shiva when he visited them in Brahmaloka and Kailasa. Angered by their response, sage Bhrigu cursed them and left for Vaikuntha.
Lord Vishnu was in a meditative state, and he also ignored Bhrigu's arrival. Unable to control his anger, Bhrigu kicked lord Vishnu in his chest. Unperturbed, lord Vishnu started massaging the sage's feet and removed the third eye in bhrigu's feet, which was the root of the sage's ego. Once his ego was gone, Bhrigu realized his mistakes. He fell at the lord's feet seeking forgiveness from the Trimurthi. On receiving it, he left for his ashram.
Goddess Lakshmi was deeply disturbed by the incident. She was not okay with lord Vishnu massaging the sage's feet, as she felt humiliated that the sage had hit Vishnu in his chest – which was her residing place. She left Vaikunta in a rage, vowing not to come back until lord Vishnu called her himself.
Unable to bear his longing for goddess Lakshmi, lord Vishnu took the form of Srinivasa and started roaming around the earth. He then started observing penance for 12 long years. Goddess Lakshmi, who felt her anger subside, decided to take rebirth on earth.
King Akasharaja, son of King Mitravarman of Thondamandalam, and his queen Dharanidevi were childless. They decided to perform yagna on a sacrificial ground. When they started plowing the land, the royal couple found a lovely baby girl lying on a thousand-petal lotus on the auspicious Panchami Day in the holy month of Karthika with the advent of Uttarashadha Nakshatra. A divine voice urged them to raise the daughter as their own and named her Padmavathi. She grew up to be a beautiful princess.
When the time was right, goddess Padmavati left for the forests for a pleasant walk with her maids. Without warning, a herd of elephants started chasing the group, and everyone scattered around to save their life. When Padmavathi was running for her life, she chanced upon Lord Srinivasa, who managed to save her. As the love blossomed between the two, with their parent's blessings, the divine couple married each other on earth on a grand scale. The grandeur of marriage became folklore, and people still talk about the events as though they happened yesterday.
Realizing she was goddess Lakshmi, Tondaman Chakravarthi, elder brother of goddess Padmavathi, constructed a temple for her at Alarmelmangapuram (Alar-Lotus, Mel-top, Manga-goddess, Puram-town) or Alimelumangapuram.
Another story says after she left Vaikunta in a rage, she went to patalaloka. She started observing severe penance for 12 years. In the 13th year, she heard a divine voice stating that a Pushkarini came into being for her reappearance on the banks of the Swarnamukhi River. On the auspicious Panchami Day in the holy month of Karthika with the advent of Uttarashadha Nakshatra, seated on a thousand-petal golden lotus, Goddess Lakshmi emerged from the Pushkarini.
The Pushkarini from which the goddess emerged is named Padma Sarovaram. Devotees dip in this holy pond and seek mothers' forgiveness and blessings.
Padmavathi Temple Details
The must-visit temple is 5 km away from the Tirumala Tirupathi temple.
Temple Timings: Except on Friday, the temple opens at 4:50 AM and closes by 9:30 PM. On Friday, the temple unlocks at 3:30 AM.
Details of different seva:
The priests offer Suprabhatha Seva, Sarkar Harathi, and Sahasra Nama Archana to the goddess Padmavathi between 5:00 AM to 6:30 AM.

Priests offer naivedyam between 6:30 AM to 7:00 AM.

Devotees can offer Kumkum Archana between 12:30 PM to 4:45 PM.

Priests offer naivedyam again between 5:45 PM to 7:30 PM.

Ekanta seva is offered to the goddess between 9:00 PM to 9:30 PM, after which the temple closes for the day.
Devotees darshan timings:
Devotees can offer their prayers to the goddess between 5:25 AM to 8:45 PM on all days except Friday. Only on Friday, the darshan starts from 7:00 AM until 8:45 PM. The curtains are closed when the priest offers Naivedyam to the goddess.
Dress code:
Men: dhoti or pyjamas with upper clothe
Women: Saree, half-saree, or churidars
Seva Fees:
Suprabhatam – INR 25 per person
Sahasra Namarchana – INR 25 per person
Padmavathi Parinayam (Kalyanotsavam) – INR 500 per person
Unjal Seva – INR 116 per person
Ekantha Seva – INR 25 per person
Kumkum Archana – INR 200 per person
Abhishekam on Friday – INR 400 per person
Vastralankaara on Friday- INR 1000 per family
Tiruppavada on Thursday – INR 600 per person
Astadalapada Padmaradhanamu on Monday – INR 300 per person
Entrance Fee:
Special Entrance – INR 10
Quick Darshana – INR 40
V.I.P Entrance – INR 100
Alternatively, you can also opt for free darshan.
We hope this exhaustive blog gave you an insight into the temple's history and other details. Keep encouraging us to bring out such detailed blogs with your comments. Let's meet in our next blog.
Summary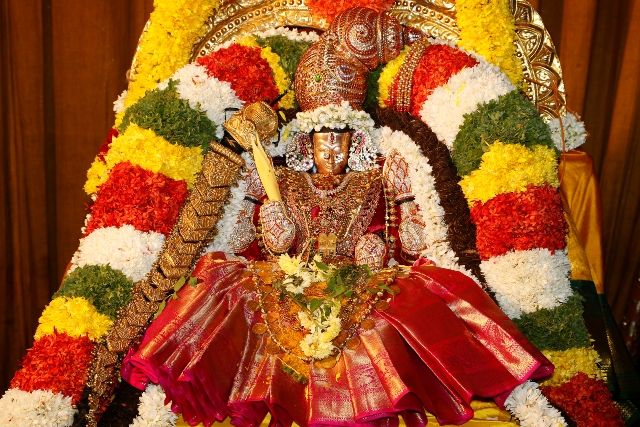 Article Name
Padmavathi Temple - Tiruchanur | Tirupati Balaji Travel Guide
Description
One of the ancient temples of India in the southern region is of the goddess Padmavathi, located in Tiruchanur. PujaNpujari Travel Guide
Author
Publisher Name
Publisher Logo