Ahmedabad city has so many things you should explore during your vacation. You can find various things, including multi-cuisine, Garba nights, spellbound architecture, colorful fabric, glorious temples, and more.
Akshardham Temple in Gandhinagar, near Ahmedabad, is a beautiful temple that attracts many religious people and tourists worldwide. It may take more than 4-5 hours to cover everything in this temple. Most people list things they want to do during a vacation to save time and avoid problems due to a lack of knowledge of the place. If you want to go to this beautiful temple near Ahmedabad in Gujarat, you should know about its history, opening and closing times, most famous features, how much it costs to get in, and how to get there.
A brief history of Akshardham Temple
The name of this complex itself means the divine abode of God. This temple is inspired by Yogiji Maharaj (1892–1971), who was the fourth spiritual successor of Swaminarayan in the Bochasanwasi Akshar Purushottam Swaminarayan Sanstha (BAPS). BAPS is a branch of the Swaminarayan Sampradaya, which was founded by Bhagwan Swaminarayan(1781-1830.
The Pramukh Swami Maharaj created this temple, and the BAPS Swaminarayan Sanstha built it in honor of Bhagwan Swaminarayan and the avatars, sages, and devas of Hinduism. It was first opened on October 30, 1992.
This sacred temple rises to a height of one hundred-eight feet and extends to one hundred thirty-one feet in width. It is an architectural masterpiece, as it is beautifully carved from 6,000 metric tons of pink sandstone from Rajasthan. This temple is an eternal place for devotees to offer devotion. It also features a stunning 7 feet tall statue of Swaminarayan.
What is there to see in Akshardham Temple, Ahmedabad?
Now, choose the things you want to see or do at the Akshardham Temple. Here are some right things you can do when you visit this fantastic complex:
Garbhagruh
To offer your prayers, you should visit the Garbhagruh in this temple. It holds the paintings of Swaminarayan and its successors, including Yogiji Maharaj, Bhagatji Maharaj, Pramukh Swami Maharaj, Shatriji Maharaj, and Mahant Swami Maharaj.
Abhishek Mandapam
This complex has an important mandapam, where the Abhishekam of Neelkanth Varni is performed. It is a significant ritual where the deity is bathed with specific items and water while chanting prayers. You can participate in the prayer for peace and become a part of this spiritual ritual by offering holy water to Neelkanth.
Exhibitions
This place is filled with many stunning paintings, crafts, and more. If you are a fan of art, you can see the exhibitions at his temple. You can watch the following exhibitions: Mystic India, a large format film; Sant Param Hitkari, Neelkanth, and Sahajanand, the halls of values.
Gardens
The best part of this temple is its magnificent gardens. You can visit the Sahajanand Vun, a garden filled with tranquility and beautiful landscapes. The gardens of Akshardham spread over fifteen acres.
Sat-Chit-Anand Water Show
It is a wonderful 45-minute presentation. The Sat-Chit-Anand Water Show displays the tale of Kathopanishad. This show captures the audience with its 80 feet wide and 60 feet high water screen, video and light projection, multi-color lasers, fireballs, water jets, underwater flames, and surround sound symphony.
Akshardham Ahmedabad timings
You can visit this temple any day of the week except Monday. You can visit this temple between 10:00 am to 7:30 pm. The Akshardham Ahmedabad timings for darshan and aarti are between 10:00 am and 7:30 pm. You can see the exhibitions at this temple from 10:30 am to 5:30 pm. The Sat-Chit-Anand Water Show starts after sunset.
The darshan and puja timings in Abhishek Mandapam are between 10:30 am to 7:00 pm.
Is there any entry fee for Akshardham Temple?
Generally, there is no such thing as the Akshardham Ahmedabad entry fee. For free, you can enter this temple for darshan, puja, and its gardens. However, you must buy tickets for other activities, such as exhibitions and the Sat-Chit-Anand Water Show, in this temple. This complex offers a paid parking facility open from 9:30 am to gate closing. You can also find a food court at this temple that offers fresh vegetarian food and snacks.
What items can and cannot you bring into this temple?
Knowing the rules of where you are going is essential, and it saves you from an unwanted headache when you visit the place. You should know what items are and are not allowed in the Akshardham temple Ahmedabad.
Some items you can bring to this temple include a wallet, shoes, a passport, belts, money, umbrellas, jewelry, water bottles, jackets, baby food, and ladies' purses. However, it would help if you took care of your personal belongings.
Things you can't bring in this temple are cameras, mobile phones, electronic items, music devices, USB drives, luggage, toys, sharp objects, pets, food, drink, and alcohol.
What is the dress code for this temple?
This temple is a sacred house of God, meaning you should show respect every time you visit. This complex proposes a strict dress code for the visitor. For lower wear, you should wear clothes that cover below your knee, and for upper wear, you should cover the shoulders, upper arms, chest, and navel. If your clothes don't follow the dress code of this temple, you can request a free sarong with a refundable deposit. Return the sarong at the exit as you leave this complex.
Ways to reach the Akshardham Temple near Ahmedabad
This temple is located at Sector 20, J Road, Gandhinagar, Gujarat. If you want to visit Akshardham temple Ahmedabad how to reach this temple, you should know that you can visit this temple by rail, bus, and air. If you are traveling to Ahmedabad railway station, you can get from there to the temple in 45 minutes. The Ahmedabad airport is 21 km from this temple
Summary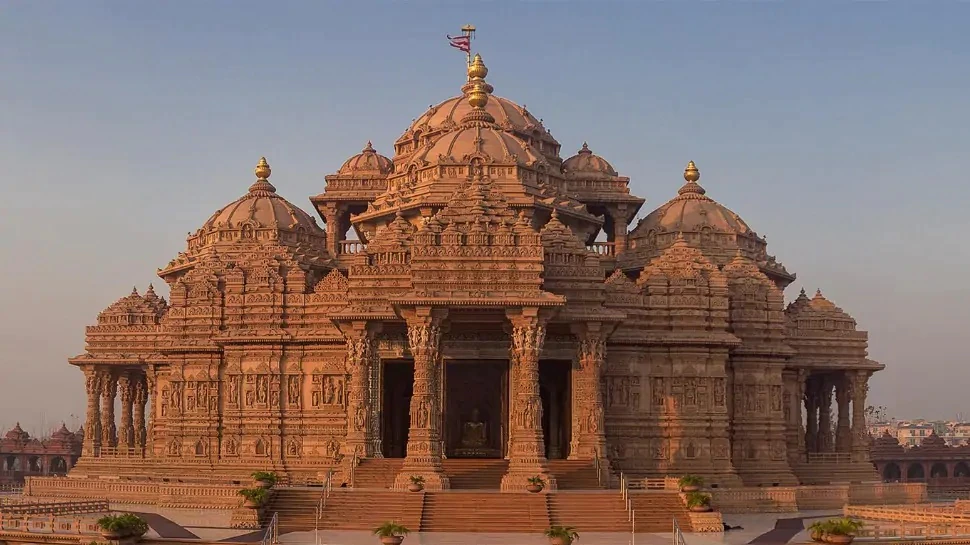 Article Name
Akshardham Ahmedabad (Gujarat): Timing, History, and All You Need to Know
Description
This temple is inspired by Yogiji Maharaj (1892–1971), who was the fourth spiritual successor of Swaminarayan in the Bochasanwasi Akshar Purushottam Swaminarayan Sanstha (BAPS). BAPS is a branch of the Swaminarayan Sampradaya, which was founded by Bhagwan Swaminarayan(1781-1830.
Author
Publisher Name
Publisher Logo