Mysore, the well-known city of heritage, is also a place of devotion and elegant temples. This is the perfect destination for family outings and friends' get-togethers. If you are thinking about
spending quality time in the city to experience exciting things, you should visit the Sri Ranganathaswamy temple near Mysore, Karnataka.
This worship place is one of Mysore, Karnataka's most revered and prominent shrines. It is located in Srirangapatna, in the Mandya district near the city of Mysore, in Karnataka, India. This temple is famous for
its stunning architecture and history. Many people visit this temple as it holds a lot of religious and spiritual significance because it is dedicated to lord Ranganatha, a form of the significant Hindu deity Maha Vishnu.
A brief history of Sri Ranganathaswamy Temple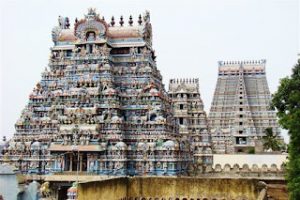 The devotees believe this temple is the first and the most important of the 108 main Divya Desams. This temple has a long history. The architecture of this temple is an example of the artistic brilliance of the artists of the ancient era. An inscription suggests that this temple was built in 984 A.D. by Ganga Chieftain, Thirumalaiah. However, other significant figures such as Hoysala, Vijayanagara, Haider Ali, and Mysore Wodeyars also contribute to this temple.
According to mythology, once in the Himalayas, the personified rivers Kaveri, Ganga, Yamuna, and Saraswati were playing. One Gandharva saw these sacred rivers playing and worshiped them from the sky. However, all the river started arguing about whom did he worship? After some time, Yamuna and Saraswati rivers stopped complaining, but the Kaveri and Ganga didn't. Finally, they both approached Maha Vishnu for the answer. The River Kaveri pleased Lord Vishnu by forming three huge islands,
Srirangapatna, Shivanasamudra, and Srirangam. The temple is built on her bank to please Lord Vishnu
The Architecture of Sri Ranganathaswamy Temple
This temple was built in the Vijayanagar and Hoysala style and dedicated to the Supreme God, Lord Vishnu. This temple has four glorious pillars beautifully carved with 24 forms of Lord Vishnu. This temple
also includes shrines of other deities such as Narsimha, Rama, Ranganayaki, Gopalakrishna, Sudarshana,
Srinivasa, and Panchamukha Anjaneya.
Many scholars believe that the rulers of the Hoysala dynasty were big fans and supporters of the art of carving and its artisans. You can see that support in the temple work. It has glorious paintings depicting
mythological events. This temple held great significance in archaeological and epigraphical sites as it offered a historical window into the early and mid-medieval south Indian culture and society.
                                                                                          Sri Ranganathaswamy Temple Timings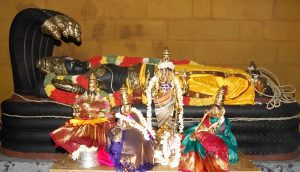 Generally, you can visit this temple between the time from 6:00 am to 9:00 pm all days of the week. If you are seeing this temple for Pooja and darshan, you should know the timing of each Pooja. The Viswaroopa Seva starts at 6:00 am and ends at 7:15 am. You can perform Pooja after this ceremony from 7:15 am to 9:00 am. Next, darshan starts from 9:00 am to 12:00 pm, and after it, you can do Pooja from 2:00 pm to 1:15 pm. The darshan timing after lunch starts at 1:15 pm and ends at 6:00 pm. You can visit this temple from 6:00 pm to 6:45 pm for the evening pooja. The last darshan ends at 9:00 pm until the temple closes
What are the clothing rules for visiting the Sri Ranganathaswamy temple?
Most people visit this temple to perform poojas and visit to see the architecture as well as the scenic beauty. If you are here to sponsor Pooja, you should follow the proper traditional attire. All men are requested to wear dhotis & Angavastras, and all women should wear a saree as an appropriate dress code to enter this temple.  However, Indian wear is not entirely required. You can wear other clothes such as full-length trousers, shirts, shirts with tops, and other clothing that covers your body appropriately.
Things to do in Mysore
There are more things to do in Mysore, along with visiting the Sri Ranganathaswamy temple. In addition, you can see other famous temples in Mysore (Karnataka), such as the Madhya Ranga Temple (in Shivanasamudra).
You can also visit other attractions of this place when travelling to Mysore, including Sri Chamarajendra Zoological Gardens, Brindavan Gardens, Mysore Palaces, Karanji Lake, and more. However, here is a list
of hidden gems, you can witness in Mysore.
You can admire the splendid artwork at Jaganmohan palace, along with Mysore Palace. The magnificence of Jaganmohan palace shows in its Hindu-style architecture. You can find here paintings of various artists across the globe.
Nothing can beat the ride of tonga, as it is one of the most favourable tourist attractions. However, Mysore is one of those lost cities of India where you can still ride on a tonga. It is a horse-drawn carriage
that brings back the soul to the old days when tongas were a common means of transportation.
Witness the Beauty of the Waterfall
Shivanasamudra waterfalls are the perfect place for a day out. You can explore the waterfall's beauty and get a peaceful and calm atmosphere. This is the ideal place for a nature lover.
Stroll around in a Beautiful garden
Brindavan Garden is the best place to stroll around as you can witness the sweet smell of flowers, pleasant breeze, sprawling lush green atmosphere, and a sense of calm. These things make this place
perfect for a calm walk with your friends and family.
You should quickly start online booking your Mysore night walk to witness the pleasant and unforgettable experience. These night walks begin at seven in the evening and will take you to various leading temples, landmarks, and markets of Mysore to let you get the essence of the city.
Mysore is one of the oldest and holiest cities in India. You can find many splendid temples and architecture like Sri Ranganathaswamy temple. It is worth visiting Mysore as it gives you a marvelous experience of nature, architecture, devotion, and cultural heritage altogether.