Significance of Baba Baidyanath Dham at Deoghar
The Sawan Mela at Baba Baidyanath Dham 
One of the twelve jyotirlingas is the Baba Baidyanath Dham. The significance of the Baba Baidyanath Dham Pilgrimage is evident from its history, as it is said that the Pandavas built it. The temple is said to be one of the oldest Shiva temples in India. Baba Baidyanath temple complex is in Deoghar, Jharkhand, Deoghar. 
2023 is a suspicious year when Sawan/Shravana will last for two months. Every year the Sawan/Shravana mela at the Baba baidyanath Dham is an important pilgrimage place and auspicious event. This year the Sawan/Shravan mela celebrations will wonderfully last for another two months. Pilgrims visit in huge numbers yearly, which is expected to increase manifold. The devotees who come to the Baidyanath Dham bathe in the holy Ganges River and then offer their prayers at the temple, participating in various religious ceremonies and festivities. 
Story Behind the Baba Baidyanath Dham Jyotirlinga
Many legends tell the history of the establishment of Baba Baidyanath Dham. 
According to a primary legend, when Ravana requested Lord Shiva to leave Kailash and accompany him to Lanka, Lord Shiva granted him his wish but with one condition. The condition is that wherever he places him in the linga form, he will take his asana there and reside there forever. Thus, to stop the atrocities and evil that Ravana was doing and going to do, Lord Vishnu took the form of a Gopala, and when Ravana went to urinate. Lord Gopala put the Shiva Linga where the Baidyanath Dham is located today. 
As per another legend, Baba Baidyanath Dham is associated with Mahabharata. According to the Mahabharata story, the Pandava brother built the temple after winning the Kurukshetra war against the Kauravas. It is said that they made the temple to receive the blessings of Lord Shiva to get away from the curse of a sage. 
Another one of the exciting legends says that Lord Vishnu, in his Varaha avatar, discovered the divine lingam at this spot. After that time, the place has been regarded as a powerful site for healing and spiritual rejuvenation.

Importance of the Trip to Baidyanath Dham
Visiting Baidyanath Dham is considered to be very auspicious. It is believed by the people visiting the mela and the Dham that coming to the Dham, especially during Sawan, brings good health, wealth, and prosperity. Pilgrims believe that visiting the temple and offering their prayers to Lord Shiva, their sins are cleansed, and their wishes are fulfilled. 
The time of the Sawan/Shravana mela is also a time for self-renewal. The devotees spend their time performing meditation and reflecting on themselves. It is one of the best ways to connect to Lord Shiva and surrender to him completely. 
How to Reach Baba Baidyanath Dham?
Reaching Baba Baidyanath Dham is very easy. Baba Baidyanath Dham is in Deoghar, Jharkhand. You can easily visit the Baidyanath Dham by air, rail, or road. 
You can reach Baba Baidyanath from the Ranchi Airport, which is around 180 km from Deoghar. By hopping on a cab or a bus from the Airport, which are readily available, one can reach Deoghar. 
If you travel by train, you can directly book a train to Deoghar Railway Station. The station is very well connected with the major cities in India. One can easily hire a taxi or an auto from the station to the Baidyanath Dham. 
If traveling by road, you can drive to Deoghar from any of the major cities in India. The journey by road from Delhi to Deoghar is approximately 1200 km from Kolkata, around 400 km. This is to give you a rough idea about the distance by road to reach the Baba Baidyanath Dham. 
Places to Visit in Deoghar
Deoghar is very famous for Baba Baidyanath Dham temple. But apart from the Baidyanath Dham, plenty of temples are present in and around Deoghar. The list given below includes a list of famous natural and architectural places of Deoghar:
Deoghar Wildlife Sanctuary: This sanctuary is home to various animals, including tigers, elephants, and deer.

Jagannath Mandir: This temple is dedicated to Lord Jagannath, a form of Vishnu.

Loknath Temple: This temple is dedicated to Lord Shiva.

Gandak River: This river is considered to be holy by Hindus.

Deoghar Golf Course: This golf course is one of the oldest in India.
Conclusion
The visit to Baba Baidyanath Dham is a once-in-a-lifetime experience. The beautiful temple complex and sacred sanctity of the place inspire spirituality, peace, and personal growth and renewal. If you want a meaningful, exciting, and enriching experience, a pilgrimage to Baba Baidyanath Dham is worth visiting and experiencing. 
Baidyanath Dham is a unique and vital place for followers of Lord Shiva because of its historical significance, religious devotion, and vibrant Shravani Mela. It continues to illustrate faith and belief, attracting worshippers to seek Baba Baidyanath's divine blessing year after year.

Summary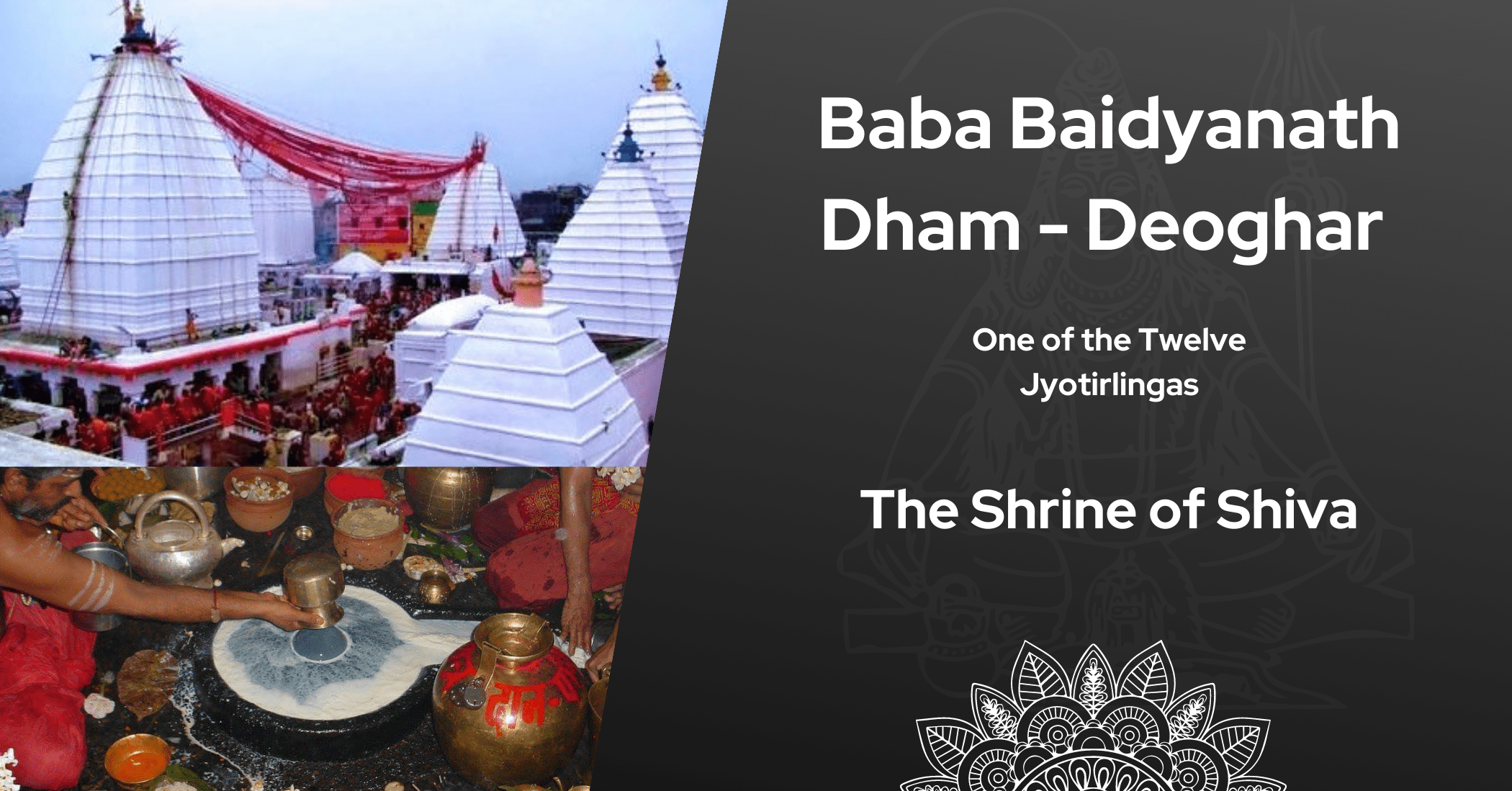 Article Name
Significance of Baba Baidyanath Dham at Deoghar
Description
Know about the significance of Baba Baidyanath Dham pilgrimage at Deoghar and the famous & auspicious Sawan/Shravana Mela specially for 2023.
Author
Publisher Name
Publisher Logo