Fasting during Navratri
A major Hindu festival that marks the arrival of Maa Durga and her incarnations. Durga, also known as Kali and Shakti, is the epitome of fierceness, power, and emancipation in women. The word Navratri is derived from two Sanskrit words 'Nava' which means 'Nine' and 'Ratri' which means 'night', which together means nine nights. During these nine days, we worship nine different incarnations of Maa Durga in India.
Navratri falls 4 times a year, out of which two are celebrated. 'Chaitra Navratri' falls at the beginning of summer (March-April) and 'Sharad Navratri' falls at the beginning of winter (Oct-Nov). The remaining two are Gupt Navratri, which means 'secret' Navratri, were some devotees practice related to Shakti sadhana and some celebrate it normally by presenting Prasad to Maa Durga at their home.
This year Sharad Navratri begins on 26th September 2022 and ends on 4th October 2022.
In India, millions of devotees keep fast during these 9 days of Navratri as their spiritual practice and belief. Although the rules and techniques of fasting vary from community to community and different beliefs, faith in God is similar.
Fasting – When and How?
Navratri vrat vidhi is easy and simple and differs from person to person. While some people fast for all nine days of Navratri, some fast for one of two days, i.e. ekam (first day) and Ashtami(eighth day) or Navami (ninth day) or the last two days, i.e. Ashtami and Navami. The strength and capacity of the person play a pivotal role in deciding the type of fasting a person does.
How to fast on Navratri?
Before the beginning of Navratri, people clean their houses and temples to invite Maa Durga into their houses. The following day begins with Puja (prayers) and Path (chanting) of Maa Durga.
People believe that Kalash sthapana (Placing a coconut in a metal pot over some raw rice beside Maa Durga) and lighting Akhand Jyoti (a lamp that remains ignited for those nine days), symbolises peace, energy, harmony, knowledge, balance and brings prosperity, purity and good luck to the house and its members.
Some people also pot barley seeds or 'jau' on clean mud and grow it for nine days.
Where the duration of the fast differs for different communities and people, the process also differs similarly. Some people eat one time a day to keep fasting, whereas some people fast in the water. They avoid eating anything and drink water for the complete duration of fasting, depending on their faith and belief.
What can you eat while fasting for Navratri?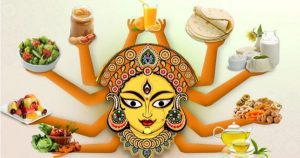 Allowed food items
• Singhare ka atta (water chestnut flour) or kuttu ka atta (buckwheat flour) or Rajgira ka atta (amaranth flour) – One can make puri, paratha, halwa or pakora from this flour.
• Potatoes – It comes in use during Navratri to make various food items such as Aloo ki sabzi, jeera aloo, Tikki, aloo chat, etc…
• Pumpkin – Some people use this in Sabzi, halwa or pakora while some avoid using the pumpkin during fasting.
• Other vegetables which can be in use during Navratri vrat are Sweet potato, tomato, colocasia(arbi), yam(suran) etc…
• Sabudana – It is one of the most used food items during fasting in various recipes, sabudana khichdi, sabudana Vada, thalipeeth, Tikki, kheer, pakora, etc…
• Some spices and herbs which are allowed during Navratri are sendha namak (rock salt), black pepper, cumin powder, green chilly, lemons, etc…
• Makhana is common to use during Navratri
• One can consume fruits and dry fruits raw or by making milkshakes, custard, raita, shake, or juice.
• Milk and Milk products.
• Tea is allowed, according to people's preferences.
Food items to avoid during Navratri fasting
• Onion and garlic are a big no-no during Navratri and should not be used in any food recipe.
• Lentils and pulses, rice, rice flour, wheat flour, all-purpose flour (maida), Rava (sooji), chickpea flour (besan), etc.
• Avoid common salt, instead use rock salt.
• Avoid using spices like turmeric (Haldi), hing, mustard (sarso), garam masala, and dhania powder.
• Some people advise avoiding mustard oil to cook Navratri food items.
• Alcohol and non-vegetarian food is strictly prohibited during Navratri.
Navratri fast is completed either on the eighth day (Ashtami) or the ninth day (Navami) after the Kanya puja, depending on the culture followed by the people. People can break their nine days long fast after feeding nine little girls with one little boy on the day of Kanya Pujan. People can break their fast in the evening or at night with a meal for those nine days at their convenience.
Navratri fast benefits and reasons
Navratri is a great time for our body and mind to relax and some people believe that fasting during Navratri can help us in various ways. As earlier stated, Navratri comes twice a year, before the beginning of summer and winter. It marks a great time to detoxify our bodies and fasting can help so. Fasting can help cleanse the body and mind and deeply detox the unwanted bacteria in the body, which can later help in adapting to the weather and climatic changes quickly.
 Apart from fasting for scientific reasons, fasting during Navratri also brings us closer to God and provides spiritual peace. The auspicious environment heals our minds and heart and can make us feel connected to the divine powers.
Benefits of fasting during Navratri
• Deep detox
As Guru Sri Ravishankar says, "We fast not to please the divine, but to cleanse our body", fasting can really help in detoxification and cleansing of the body system.
• Mental clarity
People suggest meditation during Navratri, which helps in increasing Sattva – the quality of tranquillity and positivity, which helps in improving mental clarity.
• Rapid weight loss
Fasting during Navratri can help people to reduce weight and maintain their body structure.
• Skin cleansing
As it detoxifies the germs and bacteria of the body during fasting, the skin becomes clearer and better.
6 things to do and avoid during Navratri fast
Do's
1. Stay hydrated – Drink sufficient water during the day to stay hydrated while fasting during Navratri.
2. Plant trees, water all the plants, and do charity
3. Meditate, pray, feed poor people and animals like cows, dogs, birds, etc…
4. Do prayers and mantra chanting, including Durga Chalisa and Durga Saptashati path.
5. Eat fibre-rich food – The allowed food items during Navratri fast have a lot of fibre-rich food items and choosing some of them is important.
6. Sleep well – good sleep during the fasting period because your body is not used to fasting.
 
Don't s
1. Don't starve yourself – While people suggest fasting during Navratri, it is also advisable to not starve yourself, as starving will not only harm your body but will also not impress Maa Durga.
2. Do not overeat – Eating once a day does not mean you will overeat, as it can be dangerous and harmful.
3. Avoid packaged processed food
4. Do not over-exert your body – Fasting for nine days definitely does not mean you will put too much pressure on your body and over-exertion is a big no.
5. Cutting nails and hair
6. Avoid the use of leather-made products during Navratri and especially during Puja.

In conclusion, fasting during Navratri is simple and peaceful if done properly, and following basic rules can reap more benefits, both religiously and mentally.