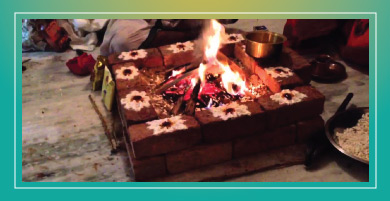 Ganapathi Homam Procedure & Benefits
Homam Significance :
Homam is a pooja and chanting of mantras for the particular god by invoking Agni to get blessings from the particular lord for getting success in life. Homam is giving wealthy to god through fire and gets goodness from the god. Homam is derived from Veda.
Ganapathi Homam Procedure :
Ganapathi Homam would be done in the early morning and Poornahuthi to be presented during sunrise. During Ganapathy Homam the following offering are required – Ghee (ajya), Modhaka (a kind of sweet prepared with coconut, jaggery and rice flour), durva (a type of grass). The Ahuti / offering into the fire is called Ashta Dravya which is a mixture of the following eight materials – 1.Coconut, 2.Banana, 3.Honey, 4.Sugarcane, 5.Ghee, 6.Modhaka, 7.Jaggery (sugar palm), 8 rice.
Religious Significance of Ganapathi Homam:
· To overcome the obstacles and welfare of the family
· Hurdles in the path of mind and soul will be neglect.
· It increases family bondage.
·To achieve success in life
· Increasing the positive effect to the environment
· Peace of mind and mind freshness