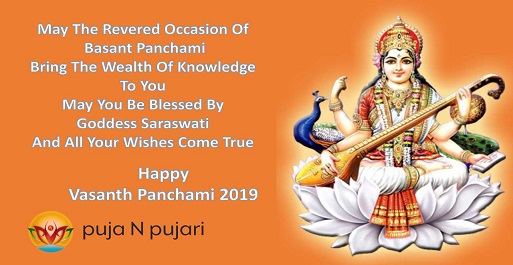 Published By : Satish Sastri
Updated On : 13/03/2019
Published On : 18/01/2019
Vasant Panchami 2019: Date, Muhurat | Saraswati Puja Procedure & Significance
1.Date and time
Vasanta panchmi is a one day festival to offer prayers to Goddess Saraswati. It falls in the Magh month as per the Hindu calendar in between the months of January and February. As Makar sankranti and Pongal marks the onset of Spring season in India, the festival of Vasanta panchmi shows the vibrant colors and flavour' s of freshness and greenery everywhere. On this day puja is done preferably in morning but it should be completed within a specified time. This time is known as "muhurta" which is being pre announced as per the Hindu panchang.
Vasanth Panchami Date 2019: Sunday 10th Febraury 2019
Pooja Muhurtam / Timings: 7.07 AM to 12.35Pm
Duration: 5 hours 27 mins
Tithi Start at 12.25 PM on 9-Feb-2019
Tithi Ends at 2.08 PM on 10-Feb-2019
2.Behind the Name.
"Vasanta panchmi " as the name itself symbolizes, Basant means "spring" and panchmi means the "fifth day", so it symbolizes that this festival is being celebrated on the fifth day of the Magha month of Hindus calendar.
3.Our Outlook
India is a country of festivals and their celebrations. Its a manifestation of India's vast culture, traditions and customs. We always thrive to celebrate and enjoy. Our traditions is a mirror which reflects our brotherhood and fellowship. Hundreds of festivals and customs are preached in each and every part of India daily but we remain united and celebrate with each other irrespective communities differences. As new year knocked our door, we enjoyed 31st December 2018 to convey our thanks to the going year who gave us a chance to cherish for 365 days and we again celebrated 1st January 2019 to give us a new chance to explore more in our life. In other part of the world where festivities ends with these two celebrations, we Indians don't want to stop. We enjoyed so many til gul ladoos and kheer and pongal dishes on Makar Sankranti with kite flying events and started waiting for one more festival. On Makar Sankranti we said goodbye to winter and welcome the spring season but now the time came to get the fruits of this season. This is the most beautiful season in whole world as it brings happiness and joy with it. Plants grow with their new leaves whereas beautiful flowers blossoms in every part of the world, butterflies fly high and high and birds sing their sweet songs aloud. This festival is known as Vasanta panchmi .
Vasanta panchmi it is also known as Saraswati Puja, Shree Panchami, or the Basant Festival of Kites. On this day we offer our prayers to Goddess Saraswati. The name "Saraswati" itself signifies her divinity and characteristic, where 'saras' means "flow", 'swa' means "self" and 'wati" means "she has" which means that Goddess Saraswati has a flow like river. She is always seen with four hands which represents the four human personalities as Mind, Alertness, Intellect and Ego and all these are associated with the Hindu holy books "Rigveda", "Samveda" and "Yajurveda". Goddess Saraswati was also named as "VAGDEVI" by Lord Brahma after listening to her knowledgeable words. She is the goddess of Knowledge and wisdom. Small children as well as elders offer her prayers for blessing them with wisdom.
Goddess Saraswati' s mount, the Swan personifies knowledge whereas her prophet the Peacock personifies art and music. She is the true incarnation of knowledge and she always adore white colour which is a symbol of purity and displays Goddess Saraswati's simplicity. She is assumed to be a part of the trinity i.e. Godessess Saraswati, Lakshmi and Parvathi.
4.History
Saraswati puja or Vasanta panchmi i has its roots dated back in Aryan period. It is assumed that Aryans came to India through the Khyber Pass and crossed the Saraswati river which was recognized by them as a symbol of wisdom and fertility. From that time Saraswati puja is being done.Mythologically it is said that when Kalidasa was married to a beautiful women and after knowing that Kalidasa is a foolish she left him, then Kalidasa went to the Saraswati river to die but then the goddess came and asked him to have a bath in that river. This incident changed his life and he became a renowned poet later.
5.Customs
Saraswati puja is a spring festival which showers greenery and purity everywhere. In this festival the farms are glowing with the crops of mustard seeds all over. Sunflowers stands high in the horticulture farms, because of this its customary to wear yellow colour dresses. Specially girls and kids and students are advised to wear yellow coloured dresses and pray the goddess to obtain her boons. Some people even perform the custom of "pitr-arpan" to pay respect to their departed souls.
Many types of sweet dishes are prepared depending upon the regional beliefs in which specially made yellow sweets like kesar halwa and gazar halwa is being offered to the goddess in North India whereas "meethe chawal" is being offered to the deity in Punjab.
In many parts of India, swings are hung around trees and high rise places and girls are supposed to sit and swing on them. They also apply mehndi on their hand to express their happiness.
6.Traditions:
Its a famous quote that today's custom becomes the tradition for future generations. What we preach and practice in our present becomes a tradition for the future generation. Like Makar Sankranti, Vasanta panchmi i is also famous for the events of Kite flying everywhere. This festival is being celebrated in each and every coaching institutes, schools and colleges. Students are advised to visit in colour full dresses and sweets and lunch is being given to everyone.
One more tradition attached with this festival has a special belief as per the Hindu mythology. Its said that a toddler who attains the age of two should touch the pen or pencil and slates only on this day of the year to get the boon from the goddess.
Procedure:
The Vasanta panchmi puja or Saraswati puja starts with the worshiping of goddess Saraswati. From the morning itself people start cleaning their houses and puja rooms and new clothes are worn. The idol of the deity is placed on a new piece of cloth. Homemade special prasad is offered to the deity. Students are supposed to keep their books and pen pencils at the foot of the idol and then puja is performed. This puja ends with Saraswati Aarti and prasad is being distributed to everyone. The books and other things are suppose to be removed the very next day after having a bath. This custom is necessary for students to take the blessings from the deity. Its a belief that students don't have to study on the Saraswati puja since they submit their books in the feet of the deity and due to this their schools and institutes are also closed. This adds to the joy of children. In the day time a special prasad called "bhog" is prepared which is a khichdi made up off all mixed vegetables and spices. This is distributed to everyone.
Book pandit online to perform Saraswati puja at Puja N Pujari
harini08/02/2019 11:37:39 AM

Hi, Glad to found it helpful.I look forward to hearing much more from u.

Ajay Reddy05/02/2019 8:07:26 AM

What day in a week is more auspicious to perform saraswati puja?

pujaNpujari22/10/2019 2:11:38 PM

9th or 10th day of Dussehra is more auspicious to celebrate Dussehra. Tuesday is preferred to do puja for Saraswati

Saugat Das02/02/2019 2:26:35 PM

Saraswati puja kab hai. We have to do decoration for pandal / mandap in our school. We celebrate vasant panchami every year. States like Bengal, Assam, Madhya Pradesh, Jharkand and other northern states celebrate very well.

Rahul Banarjee02/02/2019 1:38:52 PM

On which day people in bangalore celebrate saraswathi puja? I'm from west bengal.

Sheshu02/02/2019 8:42:34 AM

@Rahith The Vasant Panchami puja Muhurtam differs, it depends upon the panchanga followed in north and south india . the above mentioned time is the perfect muhurtam this is according to chandra mana panchang and preffered to south indian's.

Rahith02/02/2019 8:32:17 AM

Is the saraswathi puja Muhurtam different to south indian and north indian or is it same to all?

Sharath02/02/2019 8:28:19 AM

What is the difference between a south indian and north indian preforming a saraswathi puja?

Ramuswami02/02/2019 8:23:04 AM

Does the saraswati puja procedure is the same in north india and south india or does it differ.

Devandra Singh29/01/2019 11:42:40 AM

@Prashanth It is a best thing to perform saraswati puja before starting a child's schooling, because devi saraswati is a god of Education.Performing saraswati puja gives your child a good positive energy throughout his educational phase in life. We had once contacted Puja N Pujari for Satyanarayana puja service, trust me they provide the best puja services in the market, the purohits was well experienced and well versed. I Suggest puja n pujari for all your sprituial needs.

L. Deepakala Reddy28/01/2019 2:02:06 PM

Does the schools in south india celebrate the vasant panchmi? and how?

Prashanth25/01/2019 2:29:28 PM

Is it good to perform swaraswati puja before starting a child's schooling and is it more auspicious to perform on vasant panchmi?

Madhav Reddy24/01/2019 4:40:45 PM

what is the pooja procedure.?

harinath02/05/2019 7:20:53 PM

its very good

hari02/05/2019 7:26:43 PM

its good