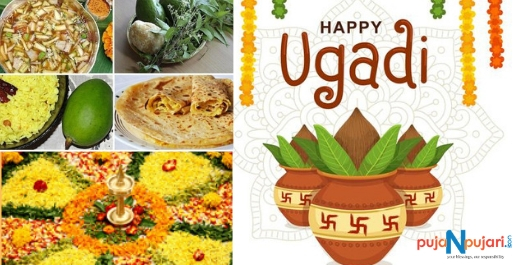 Ugadi 2019: Date, Significance, History, Tradition, Yugathi Pachadi
Ugadi 2019 Date & Muhurat Timiings:
Ugadi is celebrated on the first day of Chaitra Masa and falls in the month of 6th April 2019 as per the English calendar.
Pratipada Title Begins =14:20 on 5/Apr/2019
Pratipada Title Ends =15:23 on 6/Apr/2019
South Indian Style Ugadi Festival
Ugadi or Yugadi is the new year as per the Hindu calendar and it is very famous in south Indian states like Karnataka, Andhra pradesh and Tamilnadu. It is also known as "Gudi Padwa" in Maharashtra and "Nobo Borso" in West Bengal and is celebrated with much fervour and enthusiasms. "Yugadi" is derived from the Sanskrit words "yuga" which means age or era and "adi" means "to start" and so Yugadi specifies its meaning as "New Beginning". It is mostly celebrated on "chaitra shukla pratipada". It is also having spirituality associated with this day as it is believed that lord Brahma himself started creating mankind on this earth and made it habitable to survive and that day is celebrated as Yugadi. To pay him respect people offer prayers to him and perform "Brahma Puja".
Procedure
This day starts by waking up early morning basically before sunrise and chant the mantras to pray the God. This process is assumed very important and pure which purifies the house and enables positivity every where. After this each and every member of the family will have a ritualistic bath also known as "oil bath" or "Thailabhyangana Snanam". Its assumed very auspicious if one bathes majorly with oil and even god's images and idols are given oil bath and then puja is organized after cleaning them and making them wear new clothes and as a customary to offer prasad after puja, this puja is also followed by special prasad known as "Bevu Bella" or "Ugadi Pachadi".
Bevu Bella or Ugadi Pachadi
This is a special prasad made on the ugadi day which is not sweet rather it is bitter and sweet in taste because it is made from six different items which includes Neem leaves, Jaggery, Chillies, unripe mangoes, Salt and Tamarind. Ugadi Pachadi despite being a prasad it is more significant to one's life as its bitter and sweet taste altogether defines that one's life is full of up's and down's and we should taste and enjoy each phase of life with a smile on face. Where "bevu" means bitter and "bella" means sweet and this dish is also sweet and bitter in taste. It is made from the buds of neem, tamarind, chili powder, jaggery, salt and unripe mangoes. The ugadi day starts after consuming this dish. This teaches a person that life is full of up's and down's and we should enjoy both with a smile on our face. It is also known as ugadi pachadi
Neem - Neem flowers and buds gives a bitter taste which signifies unwanted or sad moments of life.
Jaggery - This gives sweetness and signifies happy and loved moments of one's life.
Unripe mangoes - This provides tanginess to the prasad which means that we should accept each and every surprises in life.
Chilies - It gives spice to the prasad and signifies our enraged or angry moments of life.
Salt - This gives taste and makes us realize that without taste life doesn't exists.
Tamarind - The sour taste comes from this symbolizes us that we should always haves something naughty and nostalgic in life otherwise life will become boring and lifeless.
Customs
Rangoli: Making of rangoli is a custom which is performed in each and every house on this day and people make beautiful rangoli's at the entrance of their house in early morning. This is meant to welcome Lakshmi Maa inside the house and also to invite guests and loved one's. This also signifies togetherness of people.
Panchanga Shravanam or Ugadi Panchanga Puja: This is a small ritual performed in each house basically after sunsets. It is a panchanga puja in which a newly bought panchanga of new year is kept and decorated with flowers and kumkum haldi with some akshats and the small puja is performed. The puja is followed by reading the panchanga for making future astrological announcements by the eldest person of the family and is accompanied by other members to listen and plan their schedule for the upcoming year.
Chalivendram: This is one more ritual performed on this day when many people presents water to the needy since its the start of summer and many people don't have access to pure drinking water. This is a very nice gesture and along with a ritual which relaxes our soul too.
Significance Of Udadi/Yugathi Festival
When a year comes to an end we start celebrating the arrival of new year and wave off the ending year with a positive hope and sorrows of passing year. Whole world celebrates this on last day of the year i.e. 31st December but we Indians are traditional as well as modern simultaneously and so we celebrate both the cultures in our own ways, and one such culture is "Ugadi festival". Despite celebrating 31st December we celebrate the ugadi day with much fervour and enthusiasm.
"Ugadi" is celebrated as the new year in all over India with different names and customs and is very famous basically in south India. Its among one of the most famous festivals of Karnataka, Tamilnadu and Andhra Pradesh. This is also celebrated as "Gudi Padwa" in maharashtra and many more.
Festivals are celebrated to enjoy the spirituality and festivity with whole family but they always have some significance which defines the existence of these festivals. Same as all others, ugadi is also significant with our history and customs and as per the astrological evidences our earth goes into a transition on the day of ugadi.
It is said that the earth moves on this day in such a way that the northern hemisphere receives maximum sun rays for 21 days and also marks the beginning of spring season on earth. This season is also known as the season of greeneries and leaves and fresh air during which new leaves and flowers blossoms and fruits starts to produce buds. This 21 days transition energizes the earth and prepares it again for the upcoming year.
Chiatra Navaratri also starts on the day of ugadi which is celebrated for nine days and tenth day is celebrated as "ramnavmi". Chaitra navratri is celebrated and quite famous in North India.
History
Ugadi is also known as "Yugadi" where "yuga" means age or time and "adi" means the beginnings. It is believed that Lord Brahma started making the entire world on this day and framed the years, months, days and many more and thus gave birth to life on this earth.
How Do We Celebrate Ugadi Festival?
Telugu Ugadi is a festival in which people pray and offer prayers to lord Vishnu and Brahma as they are the creator of this earth. Being a special day the ladies of the house have early bath and prepares rangoli in different colours in front of their house. These colours are said to provide positive vibes to the house. Having oil bath is also a tradition followed in each and every household and even god idol's are also provided with oil baths and then prayers are carried out altogether. In this puja one special prasada is being served which is known as "bevu bella" .
On this day a special custom is being practised when the priests or eldest member of the family reads the panchang and announces important dates and festivals for the upcoming year and this process is called as "panchanga shravanam".
Book pandit to perform puja on Ugadi Festival at Puja N Pujari
sudha11/03/2019 7:39:53 AM

How do we prepare Ugathi Pachadi at home?

admin12/03/2019 7:51:02 AM

Hello and a very warm welcome to "Puja N Pujari". Thank you for this comment and also for following the blog, Hope you like what you read and continue visiting. ... Ugadi pachadi made of neem flowers,raw mango,jaggery,pepper poeder,cocunt and salt. There are slight variations of making this.some of other ingredients that are slight variations of making this.some of other ingredients that are used for making this tastier are fried gram,. cashews,rasins and sliced banana.take all ingredients mixed with water and adjusted to suit your taste.

Deepa13/03/2019 7:45:51 AM

Nice information I follow all your blog posts on celebration of festivals. It was very interesting and helpful with regard to celebration and food items to be prepared on ugadi festival.

Kavitha14/03/2019 9:01:51 AM

Ugadi is considered as Hindu new year. And it has different names in different parts of India. For example Gudi Padwa in Maharastra, and Ugadi is same for People in Andhra Pradesh, Karnataka and Telangana. Ugadi Pachadi is a mixture of different things and teaches a person that life is full of up's and down's and we should enjoy both with a smile on our face

gayu18/03/2019 7:09:14 AM

Do Tamilians celebrate Ugadi?

Naresh Kunder18/03/2019 11:47:21 AM

Am not that well interested into why Ugadi it is celebrated, but it is good to see a very deep meaning of life in the dish (Pachadi) that is prepared on this festival. Ingredients like raw mango, neem, jaggery and tamarind implies the emotions of life – happiness, disgust, surprise, sadness, anger and fear. What you can learn by tasting the dish is you have to maintain balance of your emotions through out the year.

teena20/03/2019 2:09:00 PM

Is ugadi a harvest festival?

Puja N Pujari25/03/2019 9:12:57 AM

Hi Gayu , Tamilians do celebrate a New Year's day around that time, but there's a difference. Malayalis and Tamilians follow the solar calendar, so the New Year starts around April 14 (the Malayalis call it Vishu). ... It is possible that they too celebrate the New Year's day on Ugadi.

geetha27/03/2019 2:32:34 PM

SMS of this Ugadi festival send your family and friends. 1.May this Ugadi be as bright as ever 2.May this Ugadi bring joy, health and wealth to you 3.May the festival of lights brighten up you and your near and dear ones lives! May your hate for your enemies fades away 4.May the darkness around you become lighter 5.May this Ugadi bring joy, health and prosperity to you and your family