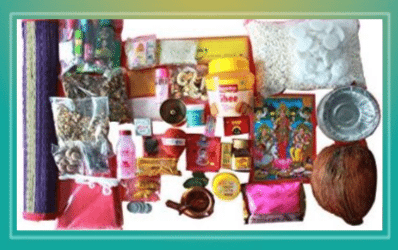 Published By : Rameshwara
Updated On : 12/09/2019
Published On : 20/07/2019
Daily Pooja Samagri List for Various Puja's in Kannada, Telugu, Tamil, English and Hindi
Everyone must have witnessed the situation of searching puja Samagri names and meanings in other languages. As India is the most diverse nation and with many languages and cultures. We @PujaNPujari came up with a list of puja Samagri/material/items list in different languages along with respective images. Hope this will help everyone who has moved to other cities and not aware of the local language.
Let us know if you want us to update any other puja items which we missed.
According to Hindu scriptures, many pooja materials are required for performing any ritual, festival and any other religious ceremonies, it is called as "Puja Samagri list". For gods and goddesses have different types of Pooja Samagri: Kumkum, Turmeric powder, incense sticks, and Kapoor are commonly used for any puja. At Puja N Pujari we are providing different types of pooja items for specific pujas. Each pooja material has its own significance during the puja. Some of the puja's and its pooja Samagri list and its significance can be given below. At Puja N Pujari we have many Pooja Samagri, like pooja thali set, puja bell, havan samagri, dhoop sticks, diya's, etc.
| | | | | | | |
| --- | --- | --- | --- | --- | --- | --- |
| S.no | Samagri Image | English | Hindi | Telugu | Tamil | Kannada |
| 1 | | Turmeric Powder | हल्दी | పసుపు | மஞ்சள் | ಅರಿಶಿನ |
| 2 | | Kumkum | कुमकुम | కుంకుమ | குங்குமம் | ಕುಮ್ಕುಮ್ |
| 3 | | Agarbatti | अगरबत्ती | అగర్బత్తి | ஊதுபத்தி | ಅಗರಬತ್ತಿ |
| 4 | | Karpur (Camphor) | कपूर | కర్పూరం | கற்பூரம் | ಕರ್ಪೂರ |
| 5 | | Dhoop | धुप | దూప్ | சாம்பிராணி | ಧೂಪ್ |
| 6 | | Kalasam | कास्केट | కలశం | கலசம் | ಕಲ್ಶಾ |
| 7 | | Honey | शहद | తేనె | தேன் | ಜೇನು |
| 8 | | Dry Fruits(mixed ) | मेवे | పొడి పండ్లు | உலர் பழங்கள் | ಒಣ ಹಣ್ಣುಗಳು |
| 9 | | Nava Dhanya | नव धन्या | నవ ధన్యా | நவ தானியங்கள் | ನವ ಧನ್ಯಾ |
| 10 | | Rice | चावल | రైస్ | அரிசி | ಅಕ್ಕಿ |
| 11 | | Rice Flour | चावल का आटा | బియ్యం పిండి | அரிசி மாவு | ಅಕ್ಕಿ ಹಿಟ್ಟು |
| 12 | | Sugar | चीनी | చక్కెర | சர்க்கரை | ಸಕ್ಕರೆ |
| 13 | | White Thread( 3 LAYERS) | सफेद धागा | తెలుపు దారం | வெள்ளை நூல் | ಬಿಳಿ ದಾರ |
| 14 | | Blouse Pieces | ब्लाउज के टुकड़े | జాకెట్టు ముక్కలు | பிளவுஸ் துண்டுகள் | ಕುಪ್ಪಸ ತುಂಡುಗಳು |
| 15 | | Saree | साड़ी | చీర | புடவை | ಸೀರೆ |
| 16 | | Dharbe | धरबे | ధర్బ్ | தர்பே | ಧರ್ಬೆ |
| 17 | | Betal Nuts | सुपारी | వక్కలు | பாக்கு | ಅಡಿಕೆ |
| 18 | | Deepam Oil | दीपक का तेल | దీపం నునే | தீபம் எண்ணெய் | ದೀಪದ ಎಣ್ಣೆ |
| 19 | | Cotton Wicks | कपास की ईंटें | వత్తులు | காட்டன் திரி | ಹತ್ತಿ ವಿಕ್ಸ್ |
| 20 | | Round Cotton Wick | कॉटन विक्स राउंड | గుండ్రంగా వున్నా వత్తులు | சுற்று காட்டன் | ಸುತ್ತಿನ ಹತ್ತಿ ವಿಕ್ಸ್ |
| 21 | | Match Box | दियासलाई | అగ్గిపెట్టి | தீப்பெட்டி | ಮ್ಯಾಚ್‌ಬಾಕ್ಸ್ |
| 22 | | Homa Sticks | होमा लाठी | హోమం కట్టెలు | ஹோமா குச்சிகள் | ಹೋಮಾ ಕಡ್ಡಿಗಳು |
| 23 | | Harali Samidha | हराली समिधा | రాగి కట్టెలు | அரச சமிதா | ಹರಾಲಿ ಸಮಿದಾ |
| 24 | | Navagraha Samidha | नवग्रह समिधा | నవగ్రహ సమిదా | நவகிரக சமிதா | ನವಗ್ರಹ ಸಮಿದಾ |
| 25 | | Havan Samagri | वह समगरी है | హోమం సామాగ్రి | ஹவன் சப்ளைஸ் | ಹೋಮಾ ಸಮಾಗ್ರಿ |
| 26 | | Mouli | मौली | నొమ్ములు దారము | மோலி | ಮೊಲ್ಲಿ |
| 27 | | Danavantry Bag | डोनवैंट्री बैग | హోమ అవ్వుషదాలు | தனவாந்த்ரி பை | ದಾನವಂತ್ರಿ ಬ್ಯಾಗ್ |
| 28 | | Battada harallu | बाल्ड हार | పేలాలు | நெல்பொரி | ಬತ್ತಡ ಹರಲ್ಲು |
| 29 | | White Mustard | सफेद सरसों | తెలుపు ఆవాలు | வெண் கடுகு | ಬಿಳಿ ಸಾಸಿವೆ |
| 30 | | Colors | रंग | రంగులు | நிறங்கள் | ಬಣ್ಣಗಳು |
| 31 | | Clay Deepa | मिट्टी का दीपक | మట్టి దీపం | அகல் விளக்கு | ಕ್ಲೇ ದೀಪಾ |
| 32 | | Ganga Jal | गंगा जल | గంగ జలం | நதி நீர் | ಗಂಗಾ ನೀರು |
| 33 | | Dry Coconut | सूखा नारियल | ఎండు కొబ్బరి | உலர்ந்த தேங்காய் | ಒಣ ತೆಂಗಿನಕಾಯಿ |
| 34 | | Gomutra | गोमूत्र | ఆవు మూత్రం/పంచితం | பசு சிறுநீர் | ಹಸು ಮೂತ್ರ |
| 35 | | Dothi | धोती | పంచె | வேட்டி | ದೋತಿ |
| 36 | | Reshme Vastra | रेशमा एक कपड़ा है | పట్టు వస్త్రం | பட்டு உடை | ರೇಷ್ಮೆ ವಸ್ತ್ರ |
| 37 | | RedCloth ( Taaval) | रेडक्लोथ (तावल) | ఎర్ర తవాల్ | சிவப்புதுண்டு | ಕೆಂಪು ಟವೆಲ್ |
| 38 | | Chandhan Powder | चंदन पाउडर | గంధం | சந்தனம் பவுடர் | ಚಂದನ್ ಪೌಡರ್ |
| 39 | | Janivar | धागा | జేంజ్జము | பூனல் | ಜನ್ವಾರ |
| 40 | | Black til | ब्लैक तक | నల్ల నువ్వులు | கருப்பு எள் | ಕಪ್ಪು ಎಳ್ಳು |
| 41 | | dhonne | डोना प्लेट | దొన్నెలు | தொன்னை | ಧೋನ್ನೆ |
| 42 | | Gejje Vastra | कपड़ा | పత్తి వస్త్రము | கஜ்ரா வஸ்திரம் | ಹತ್ತಿ ಹಾರ |
| 43 | | Lavancha | Lavancha | లవంచా | வெற்றி வேர் | ಲವಂಚ |
| 44 | | Vasthu Prathima | वास्तु प्रथिमा | వస్తు ప్రతిమ | வஸ்து பிரதிமா | ವಾಸ್ತು ಪ್ರತಿಮಾ |
| 45 | | Donne Plates | डोने प्लेट्स | డోన్ ప్లేట్లు | தொன்னை தட்டுகள் | ಡೊನ್ನೆ ಪ್ಲೇಟ್‌ಗಳು |
| 46 | | Ghee | घी | నెయ్యి | நெய் | ತುಪ್ಪ |
| 47 | | Vibhoodi | विभूति | విభూది | விபூதி | ವಿಭೂದಿ |
| 48 | | Rose water | गुलाब जल | రోజ్ వాటర్ | பன்னீர் | ಪನ್ನೀರ್ |
| 49 | | Box Jaggery | बॉक्स गुड़ | బెల్లం | பெட்டி வெல்லம் | ಬಾಕ್ಸ್ ಬೆಲ್ಲ |
| 50 | | Homa Kunda | होमा कुंडा | హోమ కుండ | ஹோமா குந்தா | ಹೋಮ ಕುಂದ |
| 51 | | Turmeric/Haldi sticks | हल्दी / हल्दी की छड़ें | పసుపు కొమ్ములు | மஞ்சள் / ஹால்டி குச்சிகள் | ಅರಿಶಿನ / ಹಲ್ಡಿ ತುಂಡುಗಳು |
| 52 | | Karjura | खर्जुरा | ఎండు కార్జూరాల | பேரீச்சம்பழம் | ಕರ್ಜುರಾ |
| 53 | | Mixed Fruits | मिश्रित फल | మిశ్రమ పండ్లు | கலப்பு பழங்கள் | ಮಿಶ್ರ ಹಣ್ಣುಗಳು |
| 54 | | Marigold Garland | मैरीगोल्ड गारलैंड | చామంతి పూలు | மேரிகோல்ட் மாலை | ಶಾಮಂತಿ ಹಾರ |
| 55 | | Chamanthi Garland | गारलैंड | చామంతి పూలు | சாமவுண்டி மாலை | ಮಾರಿಗೋಲ್ಡ್ ಗಾರ್ಲ್ಯಾಂಡ್ |
| 56 | | Tulasi Garland | तुलसी की माला | తులసి మల | துளசி மாலை | ತುಳಸಿ ಹಾರ |
| 57 | | Rose Garland | गुलाब की माला | గులాబీ మల | ரோஜா மாலை | ರೋಸ್ ಹಾರ |
| 58 | | Loose Flowers | ढीले फूल | పువ్వులు | தளர்வான மலர்கள் | ಹೂವುಗಳು ( loose ) |
| 59 | | Flower Garland (maala) | फूल माला (माला) | పూల మల | மலர் மாலை | ಹೂವಿನ ಹಾರ |
| 60 | | Coconuts | नारियल | కొబ్బరికాయలు | தேங்காய் | ತೆಂಗಿನಕಾಯಿ |
| 61 | | Betal Leaves | बेताल पत्तियां | తమలపాకులు | வெற்றிலை | ಎಲೆಗಳು |
| 62 | | Ghee | घी | నెయ్యి | நெய் | ತುಪ್ಪ |
| 63 | | Milk | दूध | పాలు | பால் | ಹಾಲು |
| 64 | | Curd | दही | పెరుగు | தயிர் | ಮೊಸರು |
| 65 | | Mango Leaves | आम की पत्तियाँ | మామిడి ఆకులు | மா இலைகள் | ಮಾವಿನ ಎಲೆಗಳು |
| 66 | | Banana Leaves | केले के पत्ते | అరటి ఆకులు | வாழை இலைகள் | ಬಾಳೆ ಎಲೆಗಳು |
| 67 | | Banana Trees | केले के पेड़ | అరటి చెట్లు | வாழை மரங்கள் | ಬಾಳೆ ಮರಗಳು |
| 68 | | Machi Patri | फ्लाई दुल्हन | ఫ్లై వధువు | மூலிகை இலைகள் | ಪತ್ರ್ರೆ |
| 69 | | Pumpkin | कद्दू | గుమ్మడికాయ | பூசணிக்காய் | ಕುಂಬಳಕಾಯಿ |
| 70 | | Lemon | नींबू | నిమ్మకాయ | எலுமிச்சை | ನಿಂಬೆಹಣ್ಣು |
| 71 | | Green Grass | हरी घास | పచ్చ గడ్డి | அறுகம்புல் | ಹಸಿರು ಹುಲ್ಲು |
| 72 | | Banana | केला | అరటి | வாழைபழம் | ಬಾಳೆಹಣ್ಣು |
| 73 | | Bell Leaves | बेल पत्तियां | బిల్వ | பெல் இலைகள் | ಬಿಲ್ವಾ ಪತ್ರ್ರೆ |
Still wondering where to find these items? Now you can order puja samagri online
Satyanarayana Puja
The word Satya means "Truth", Narayana means" The highest existence". Together it's mean " the highest existence who is the symbolization of truth". Satyanarayan Pooja is one of the best puja implemented to pleased Lord Vishnu and gets his blessings. Satyanarayana puja can be performed on various ceremonies like Gruhapravesh, marriages, starting a new business and more. For performing Satyanarayana puja, pooja samagri list is more important. On the day of Chaitra Purnima is very auspicious to perform this ritual.
Sathyanarayana Puja Samagari list:
Turmeric Powder, Kumkum, Agarbatti, Karpur (Camphor), Dhoop, Sandle powder and paste, Betal nuts, Betal leaves, Banana fruit, Banana tree and leaves, Brass oil lamp, Donne plates, Coconuts, Clay, oil lamp, Flowers, Flower Garland 2 or 3 variety, jaggery, lemon, Gomutra , Kalasa, Mango leaves, Raw Rice , Rosewater, Tulasi garland, Sugar , Milk , Ghee, Honey ,Almond, Dry fruits, Dry Coconut, Cloth and thread.
Ganesh Chaturthi Puja
Ganesh Chaturthi puja or festival can be performed on Shukla Chaturthi on the Hindu month of Bhadrapada and it ends on Anant Chaturdashi. Indian people will celebrate this festival as a birthday of Lord Ganesh. It is one of the famous festivals in Hinduism. In India, people are believing that Lord Ganesh is the obstacle remover. For performing this ritual specific Ganesh Chaturthi puja samagri is available in our online website. He is also known as Vinayaka, Murthi, Ganapathi, etc. He is the son of deities Shiva Parvathi. He is the symbol of Knowledge, wisdom, wealth and success. And god Vinayaka is the first worshiper of any ritual. Before performing any puja or ceremony firstly lord Ganesha puja can be performed.
Ganesh Chaturthi Puja Samagri list:
Clay Ganesha idol,Turmeric powder, Kumkum, Sandle powder & paste, Deepam oil, Ghee, Coconut, Incense stick, Dhoop , Banana fruit, Banana leaves, Camphor, Clay Diya, Brass oil lamp, Betal leaves, Betal nuts , Fruits, Dhrbe , Grains in raw of paddy, ragi, corn, Sugar cane, Mango leaves, Arugam grass, garland, Errukam garland, Red cloth and Vasthra.
Varamahalakshmi Puja
Vara Mahalakshmi puja is the most auspicious ritual in Hinduism. This ritual is performed by married women. Devoting goddess Lakshmi on this day is equals to the devoting Ashtalakshmi that is 8 Lakshmi. These goddesses mark the wealth, earth, learning, love, fame, peace, pleasure and strength. This festival performed on the month of Shravana second Friday, on the full moon day. Those who can not perform this festival on that day can do it next Friday. In this festival Vara Mahalakshmi idol is decorated with different ornaments, on that day silver puja items also used like silver Vara Lakshmi idol, silver puja thali set, silver diya's, etc.
Varalakshmi Puja Samagari list:
Varalakshmi idol, Puja chowki, Turmeric /Haldi sticks, Kumkum, Camphor/Kapoor, Agarbati, Dhoop, Oil lamp , Deepam oil, Blouse pieces, Kalasa,Thread, Vastra, Coconut, Lemon, Fruit, Dry fruit , Sugar, Milk , Ghee, Honey, Raw rice and turmeric , Betal leaves, Betal nut, Banana fruit, Banana leaves, Bangals and Flowers garland.
Diwali Puja
Diwali is the major festival in India, Worldwide people are celebrating this festival. Diwali is also called Deepavali. The Deepavali festival is celebrated on the 15th day of Kartika month. It is approached 20 days after Dussehra or Navarathri 9th day festival. On the day of Diwali festival in the evening time Lakshmi puja and lord Ganesh puja can be performed, it is known as Diwali puja. Goddess Lakshmi is the symbol of wealth. The festival of Diwali reminds the sweets, crackers, lighting diya's, etc. People will celebrate this festival with joy and happiness. It signifies the victory of good over evil. This festival is celebrated for five days. The first day is Dhanteras, second day Naraka Chaturdashi, third day Diwali, fourth day Govardhana puja and fifth day Bhai dhooj festivals should be performed.
Diwali Puja or Lakshmi Puja Samagari list:
Turmeric Powder, Kumkum, Agarbatti, Karpur (Camphor), Dhoop, Sandle powder and paste, Betal nuts, Betal leaves, Banana fruit, Banana tree and leaves, Brass oil lamp, Donne plates, Coconuts, Clay oil lamp, Flowers, Flower Garland 2 or 3 variety, jaggery, lemon, Gomutra , Kalasa, Mango leaves, Raw Rice , Rosewater, Tulasi garland, Sugar , Milk , Ghee,Honey ,Almond, Dry fruits, Dry Coconut, Cloth, Flower Garland, Marigold Garland, Lavanchy, Gejje Vastra, White Mustard, Round Cotton Wick, Blouse Pieces, Gold and silver coins.
Ganapathi Homam
For performing Ganapathi Homam Sankata Hara Chaturthi day is very auspicious. Monthly once Sankata Hara Chaturthi day will come. This Homam can be performed for invoking Lord Ganesha. Before starting any Homam or Yagna Ganapathi Homam will be performed, Because he is the first worshiper. He is called an obstacle remover. If anyone has doshas like kethu dosha they will perform Ganapathi Homam. House-warming ceremony, birthdays, starting a business, etc in that scenario's Ganapathi Homam will be conducted. In the early morning, Ganapathi Homam would be done, in the sunrise time, you can perform poornahuthi. By using of Ganesh puja samagri this Homam will be performed.
Ganapathi Homam Samagari list:
Turmeric powder, kumkum, sandal powder, Camphor, frankincense powder, sacred ash, incense sticks, Flowers garland and bunch, Kalasa, Mango leaves, Gomuthra , Rosewater, Ghee, Coconuts, Lemon, Betal nuts &leaves, Sugar, Milk, Lavancha, Herb leaves or dry leaves, Honey, dry flowers, dry seeds, dry grasses, Nuts, pot thread, cookery candy, Ghee, Homa sticks, tirtha parimala, betel-nut, Cauldron, Dharbe, Clay pots, White thread and Navagraha samidha.
Significance Of Pooja Samagri:
Agarbatti
Agarbatti is one of the Puja Samagari, and it is used to place at Puja Mantap for good fragrance. The incense stick burns itself. To create a good fragrance smell, and a Fragrance stick has a huge curative and comfy consequence on the mind and the body. According to our rituals, Agarbatti stands as an important role in the part of the puja. The deity loves good and nature fragrance during the puja.
Karpur / Camphor
Karpur / Camphor is a very important part of puja, in Hindu people considered the deity from the Karpur fire it stimulates the spiritual thoughts. Karpur only generates fulfilment of the puja. As well as Karpur used for inviting the deity and good forthcoming in life, welcome the new thing and that fire reduces evil power in the home.
Dhoop
Dhoop Sticks producing fragrance while performing Puja. The good smell creates positive spiritual thoughts and utterance among the devotees and can also be used to keep concentration while meditating. Dhoop has many advantages, the deity Lakshmi visits the house and in another way, the puja room will give good fragrance.
Kalasam
Kalasam is compared to the earth in the Puja and one of the major materials for Puja and Homam. It is kept for pure water(JAL). Kalasha handles by the Purohit in the temple and sprinkles the water to the devotee for restricting the evil energy and Dosha. Kalasha is also used at the Puja Mantap to do the rituals. According to the Hindu ritual, ragi Kalasha is itself considered as God.
Honey
Pure natural honey offer to all the deities during Abeshekam, the honey considered as a sweet and pure. Abhishekam is done with honey as it removes the negative thoughts and bad nature who do puja. Only with the natural items, abhishekam is done. One among them is honey, it is produced by flowers extracted by bees.
Dry Fruits(mixed)
In puja and ritual needs Dry fruits to make prasad for the deity and is distributed to the devotee at the end of the puja. Abhishekam is done with Dry fruits mixed with honey and fruits. Purohit does puja or Abhishekam to God to make the diety please with Puja. People prefer to eat Dry fruits during fasting.
Nava Dhanya
The Nava Danya refers to get blessings of individual Navagrahas. The purpose of getting rid of doshas from the Navagras people do pooja to particular Navagraha with different grains. To get a blissful life, Navagraha is worshipped with different Plant, Grain and Stone.
| | | | | | | | |
| --- | --- | --- | --- | --- | --- | --- | --- |
| S. No. | Graha | Stone | Plant | Grain | Direction | God | Colour |
| 1 | Sun | Ruby | Tella Jilledu | Godhumalu | Centre | Shiva | Golden Yellow |
| 2 | Moon | Pearl | Moduga | Paddy | South East | Durga | White |
| 3 | Guru | Yellow Sapphire | Raavi | Sanagalu | North | Vishnu | Yellow |
| 4 | Shukra | Diamond | Medi | White Rajma | East | Lakshmi | Colourful/ Mixed colours with white |
| 5 | Budha | Emerald | Uttareni | Pesalu | North East | Form of Vishnu | Green |
| 6 | Kuja | Red Coral | Nalla Sandra | Kandulu | South | Subrahmanya | Red |
| 7 | Sani | Blue Sapphire | Jammi | Nalla Nuvvulu | West | Ayyappa | Black |
| 8 | Rahu | Gomedh | Garika | Minumulu | South West | Sarparaja | Light Blue |
| 9 | Ketu | Vaidhooryam | Darbha Gaddi | Ulavalu | North West | Bhadrakali | Orangish Red / Mixed Colours |
Rice
Rice stands in the most important role of puja/homam/ marriage and other occasions, rice to make Akshata (Raw unbroken rice mixture with Turmeric, Ghee and flower) and spread over the puja thali for placing the Kalasa. The Akshata signifies auspicious, bliss, and blessing from the god.
Rice Flour
Rice Flour is prepared by grinding the raw Rice. Rice Flour is also one of the puja samagri items. This flour is used to do Diyas by adding deepam oil to the rice flour and is prepared like diyas. In the middle add oil and with cotton wicks lit the Diya. It is the traditional and ancient lamp for the deity. One has to do abhishekam with rice flour to get trouble-free from life particularly, lord Shiva loves rice flour bath. Spiritually saying rice is considered as the God. Rice flour Diyas generates purity and Ishvaryam in life.
Sugar
Sugar is one of the most required things to make Naivedyam which is offered to God during Puja. Sugar comes from the Sugar cane(the natural source), so sugar is considered as the sacred to offer food prepared with sugar to God. Sugar itself can be offered to God as Naivedyam. After the completion of Puja, Purohit distributes the Prasadam to the devotees as it is the blessings of God.
White Thread
White thread employs to wind the Kalasa as it is considered as sacred. To the white thread, turmeric is applied to make it sacred and pure and it is decorated to the idol as garland. At the end of the pooja devotees tie the turmeric thread to the hand, as it saves from difficulties. During Ganesh Chaturthi, people make 5 or 9 strands of thread, apply the turmeric and decorated the Ganesh head as a garland.
Turmeric
Turmeric powder indicates Subiksha life, so it is considered as the major part of Puja Samagri. All Gods and Goddess are worshipped with turmeric. Particularly for doing Ganesh puja, purohit uses turmeric and water to prepare the idol. With that, i.e the turmeric idol is considered as Ganesh. Puja is performed to that turmeric Ganesh. Turmeric can be used for puja and also for decorating the idol. Turmeric sticks are also given the same importance as turmeric powder.
Kumkum
Kumkum mainly, used for puja rituals. According to the Hindu religion apply the kumkum to the deity for auspicious one. According to Hindu mythology, Kumkum refers to the symbol of victory. Ancient people use Tilak well begun of the ritual in India. The married women put on their forehead, it denotes women got married. Tilak reduces and restricts the negative evil force.
Blouse Pieces
The blouse pieces are offered to the Goddess during Shodashopachara Puja, to please the Deity. Green or Red coloured blouse is given high priority to offer the Goddess. The blouse piece is distributed to the Sumangali(married women) after the puja is performed, to flourish wealth, good fortune and long life. Along with blouse piece, the performer offers banana, betel leaves and betel nuts to Sumangali.
Saree
Saree is a traditional costume for the females and the Goddess, according to the Hindu religion, draping the Saree to the deity during the puja rituals at the temple is Hindu tradition. Mostly married women wear saree as a symbol of marriage. During Puja, saree is offered to the Goddess expressing respect to her. After the completion of puja, it is gifted to the married women with betel leaves, betel nuts and banana.
Dharbe
Dharbe grass stands an important part of puja rituals. It is the representation of purity and sacred. It offered to Lord Ganesha during the puja and Homam. Generally, Dharbe is considered as the sacred and can also be tied to the ring finger while doing pooja, to make it successful.
This grass reduces the Shani dosha and obstacles during the puja and rituals. Dharbe purifies some dosha during the Homam rituals. While performing Homam Dharbe is placed around the Homam to make it sacred and to secure from the demons.
Betal Nut
Traditionally, people offer betel nut and leaves to the Deity and also for forefathers to get the blessings from them. And the betel nut purifies the devotee's concentration, it is a symbol of natural food offering to God. According to Hindu ritual Thambulam(betel leaf with betel nut) is given to women as a token of respect who attends the pooja or ceremony. Not only traditional importance to Betel nuts, but there are also so many minerals that help to maintain good health.
Deepam Oil
Deepam oil is used for all puja Diya, oil employs spiritual process in the human being. Panch oil(a mixture of five oil) generates positive thoughts, spiritual power. The lamp must need oil for lighting Brass Diyas or Crystal Diyas. Lighted Diya is considered as God(positive power) and also as a symbol or relation between the deity and devotes. In Hindu culture, lighting the Diya in the morning and in the evening is a daily process to attain a peaceful house and also for Mukti(freedom of life).
Cotton wicks
According to the Hindu rituals we use much natural material for the Puja and Homam, to lit Diyas in puja mandir, to do prayer for all spiritual practices we use cotton wicks for lightening the house as well as Temples with Diyas. Cotton wick employs a significant part of the puja. To lit Diya, fill Diyas with oil and place the cotton wicks at one end of Diya and lit the cotton wicks with a matchbox.
Homa Sticks
To perform Homa, first priority is given to Homam sticks. Natural Herbal plants, firewood, the sandal is also used as Homam sticks. These sticks are lighted, while starting the Homa and different sticks have different unique power when burnt along with Kapoor, Ghee, sesame oil and many more. while performing Homam the sticks reduce the Dosha and bad karma level.
Harali Samidha
Harali Samidha it is a kind of stick stands especially to perform Homam. By using these sticks homam is performed for Gods and Goddess also for Navagraha puja to get boon and blessings from all Gods, Grahas, and Stars.
Anoosha13/09/2019 2:05:42 PM

Why abhishekam is done with honey to the God idol? I have doubt with that... the honey bee bring the honey from flowers and keep it in one place. We dont offer God which was tasted by anyone. But why honey is exceptional. Honey bee taste it for somehow while bringing it to their nest.

Pavithra10/09/2019 5:23:35 PM

what is the significance of darbha grass in Hindu tradition? why people use dharbe during festivals and hindu rituals. why pandit says to place dharbe on dishes and in the puja mandap during the lunar eclipse. Is dharba has that much control of negativity?

Tejaswini05/09/2019 4:16:45 PM

Pooja Samagri list mentioned in Kannada helped me a lot to list out all the puja items. The information regarding dharbe is very nice. I came to know the importance of dharbe keep posting the more information.

Sudha30/08/2019 1:40:00 PM

I'm from Oddisa and I'm staying in Bangalore. We want to perform ganesh puja on this ganesh chanturthi so we went to local market to buy puja samagri. There we are struck with names what we call in Odia. Can you please also list in Odia, this will help us Thanks

Gayathri05/08/2019 4:58:18 PM

You are providing very good services, last week we did Satyanarayana puja for that I don't know which type puja samagri required, I was searched in google I found best puja items on your website. I don't know that all puja samagris in English, you provide the names of puja smagris in different languages and puja descriptions, it was very easy to find the list of puja items, I was ordered and I get it on the same day only. Thanx a lot. In difficult situations, you gave good information about puja items, your way of puja item lists explanation is pictures with different languages are very understandable for everyone. In the future, for my relatives or friends anybody wants puja samagirs, I will suggest your website.

Sandeep05/08/2019 4:30:38 PM

I have celebrated Shanmuga puja so I need puja samagari, my friend recommends this website for puja samagari for all puja and items so, I have ordered. And delivery within a day before the puja. It is helpful for my convenience. with my family, I attended Shanmuga puja last Tuesday. And I wish to suggest to my friends, relation, and others too. This list convenient in different puja of pujas samagari list and has Tamil, Kannada, Telugu, and Hindi much easy to find others also. Next time I have to suggest to others firmly

Hamsa Veni31/07/2019 4:50:18 PM

Such a great idea of placing all the puja samagri items all at one place and their respective images. I have been to a situation when I was in chennai and dont know the name of Betal Nuts in local language. Then i have searched in google and showed him tha image. Problem solved.

Abhishek26/07/2019 10:33:23 AM

Puja Samagri list also mentioned in Tamil helped me to find out , what the exact puja material. At my home we celebrated a small Puja for that there is an immediate requirement of pooja material. I am new to Bangalore, i just stuck where can i get the puja material and many more things. My colleague suggested me to get the online order from PujaNPujari, and will be delivered in one day. As he said.. i did, and we celebrated the puja grandly. Material quality is good. All puja material list was delivered in one day to my home.

Jyoti23/07/2019 4:11:32 PM

Different pooja items are listed in one place, and it will be fine if mentioned different puja list for different pujas

Nandini23/07/2019 4:05:45 PM

Such a useful list and that too in different languages along with Image. I think every one must take this as reference before they go to market to buy pooja material. They have covered most of the items that are needed for puja.