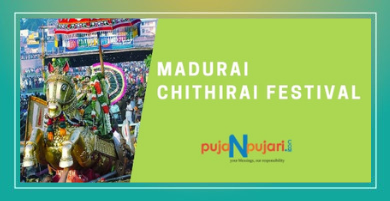 Published By : Satish
Updated On : 25/04/2019
Published On : 16/04/2019
Madurai Chithirai Festival 2019
Indian festivals are world renowned and when they have their roots in south India, the level of spirituality is up above the sky. Yeah this is true, being in south India during festivals gives you a glimpse of our ancient old cultures, traditions and customs in detail. Among all one of the festival which I got a chance to be in Madurai, Tamil Nadu was Chithirai festival. Being celebrated on fifth day of the month of April/May as per the English Gregorian calendar every year or Tamil month "Chithirai", it got its name as "chithirai festival".
This festival witnesses the marriage of Lord Sundareswarar or Lord Shiva and goddess Meenakshi who was lord vishnu's sister and thus signifies the unification of people from all castes and creeds. It starts from the flag hoisting ceremony followed by the rituals which lasts long for two weeks.
History
Goddess Meenakshi was the younger sister of Lord Vishnu and when the goddess married Lord Sundareswarar, her brother could not visit her in personal. The married couple went to meet Lord Vishnu at Vaigai river where Lord Vishnu went inside the river to present his gifts to the couple. Chithirai festival marks this incident and celebrate it with full enthusiasm.
Procedure
Like every year this year also it started on April 8 - 2019 by flag hoisting ceremony in Madurai Meenakshi temple. Flag hoisting signifies the emergence of two week long festivity and everyone starts to prepare for the same.
15th April - KODI YETRAM - Flag hoisting ceremony.
16th April - PATTABISEKAM - Marks the procession for the goddess where she visits masi streets around the temple.
17th April - DIKVIJAYAM - It marks the wedding day of Goddess Meenakshi and Lord Sundareswarar which gathers thousands of people from all over the city as well as from far away places.
18th April - THER THIRUVIZHA - The newly wedded couple is paraded in the city to get blessings from everyone. Its speciality lies with a beautifully decorated chariot which is pulled by everyone and is assumed to be very auspicious
EDHIR SEVAI - This is another event to be held on this day in the evening when the couple welcomes Lord Vishnu or Lord Kallazhagar.
19th April - ALAGAR VAIGAI ELENTHUARULAL - Lord Vishnu enters the VAIGAI river to get the gifts for the couple and returns to his residence.
Vishnu Mohan18/04/2019 10:18:46 AM

Chithirai Festival is famous festival in madurai in Tamil Nadu. Every year large number of people coming to Madurai Meenakshi temple on this festival time. I am regularly follow the most of Puja N Pujari blog posts . Great job thank u.

Raju16/04/2019 1:33:49 PM

Nice blog post. Madurai Chithirai Festival 2019 information was very helpful. We are planing to go madurai this year on this festival occasion.