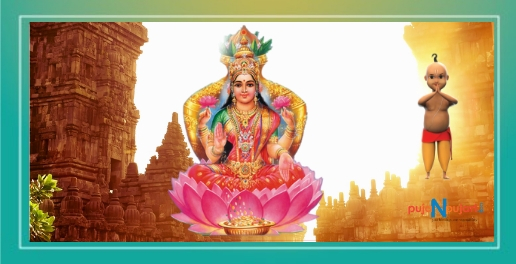 Published By : Satish
Updated On : 19/08/2019
Published On : 22/03/2019
Lakshmi/Varalakshmi Puja 2019: Shubh Muhurat, Date & Time, Pooja Vidhi & Samagri
Brief Description:
Lakshmi means wealth, money, property and all other monetized things which an individual aspires for, but if one looks at this prospect beyond the monetary benefits everything in this world is illusory. Each and everything in this world including we the humans are immortal and have our existence and destruction associated with the almighty God.
In Hinduism despite a belief "sabka malik ek hai" we pray and offer prayers to more than thousand gods with their association with respective things and communities. Similarly, for wealth and money we offer our prayers to Goddess Lakshmi or Maha Lakshmi.
She is said to be the goddess who came out of the ocean during "samundramanthan" being seated in a 100-petals lotus flower with loads of wealth with her. She is the strength behind Gods success and defeated the asur's and chose Lord Vishnu as her master. She herself embodies loyalty and glory and enables an individual to be healthy, wealthy and happy. She is the one, worshiped all over the Hindu community to get her blessings. Lakshmi Pujan is one such puja when we humans offer prayers and sweets to the goddess to make her happy and bestow her boons and blessings on us.
Date and Time & Muhurat
Every year Lakshmi Pujan is done during the five-day Diwali festival and the third day is the day for Goddess Lakshmi. This year Lakshmi puja falls on 27th October 2019. All Hindu communities perform this puja with much fervor and love and do their best to please the goddess in their own traditional ways but the Muhurat remains the same all over.
Three Muhurats are associated with this puja which includes " Pradosh Kaal" " Mahanishita Kaal" and " Choghadiya Kaal" each having its own importance. "Pradosh Kaal" is important for humans as this is also known as "sthir" which means "stagnant" and if puja is performed during this period then the Goddess stays in your place. "Mahanishita Kaal" is best suited for tantra vidya and tantriks who performs the puja in an elongated way by following each of their procedures to please the goddess. "Choghadiya Kaal" is that period when one can start his/her own travel routines and can visit to their friends and relatives.
| | | |
| --- | --- | --- |
| Date | Nakshatram | Varamahalakshmi Puja |
| 26/7/2019 - Friday | Bharani Nakshatram | Navami Krisha paksham |
| 2/8/2019 - Friday | Ashlesha Nakshathram | Prathanma Shukulka paksham |
| 9/8/2019 - Friday | Anuradha | Suklam navami |
| 16/8/2019 - Friday | Dhanista | Krishna paksham Prathma |
| 21/8/2019 - Friday | Uthara | Tirtha Shukla paksham |

In 2019 the preferred muhurat timings are:
Pradosha Kaal is from 5:56 pm to 8:24 pm. This muhurat overlaps with another muurat called "Vrishabha Kaal" which is also as preferable as Pradosha Kaal. This Vrishabha Kaal has its importance for businessmen and entrepreneurs. They are believed to worship their old financial papers in front of the god and thank her for giving him/her everything for the past one year and also asks her permission and take blessings to grow similarly in the upcoming year.

Vrishabha Kaal is from 7:10 pm to 9:13 pm. One can perform the puja between 5:56 pm to 9: 13 pm on this day.

Mahanishita Kaal: This period is best suited for tantriks and those people who performs black magic and so it starts from mid night when negative forces are in power.

Mahanishita Kaal: The Mahanishita Kaal in 2019 starts at 11:43 pm to 12:32 am and one more period with same significance is Simha Kaal which starts at 1:33 am to 3:35 am.

Choghadiya Kaal: Choghadiya Kaal spans for the whole day and night which is suitable to go out or to travel.
The auspicious muhurat is:
1:34 pm - 3:03 pm
5:56 pm - 10:34 pm
1:40 am - 3:13 am
4:46 am - 6:19 am.
Don't perform puja in these muhurats as they are not auspicious as well as best suited for travelling and visiting your friends and relatives.
Puja procedure & Importance
Lakshmi Puja is a very famous festival for Hindus and specially Bengalis who also call it as Lakhi puja. The couple of the house or the concerned person of any office observes fast or have plain food for whole day and perform her puja on muhurat. Girls of the house prepares beautiful rangolis all over the house to welcome the Goddess with open heart and love. New idols of the Goddess Lakshmi and her husband Ganesha who is the god of new beginnings is bought and decorated. New silken clothes are given to the idols with lots of sweets and other delicacies.
Mantrocharan and aarti specified is done in each house followed by "shankh dhwani". this dhwani is very important for every house as it is said to give aahwahan or invite the goddess to the worshiping place. After aarti puja is completed and prasad is distributed to every one.
Goddess Lakshmi is the protector of wealth, money and blesses us with prosperity and good well beings. Praying her and inviting her to our house or work place makes her stay with us. Its very auspicious to pray her and to get blessed by her for our successful survival and prosperity.
Procedure for Lakshmi Pooja:
Ganapathi Pooja
Punyaha Vachanam, Maha Sankalpam
Kalasha Pooja
Vara Mahalakshmi Pooja
Prasad Distribution
Karva Chauth Puja
Karva means - clay pot and Chauth means - fourth, women will do pooja with Karva Deepa so-called karma Chauth puja. This puja is performed after the fourth day of Purnima festival all married women celebrate the need for longevity, prosperity, and well being of their husband life. Women indicate this festival as "Saubhagyavati" meaning "joyous and happy status of wife-hood", all married women do fasting from sunrise to sunset for the welfare of husband in the Northern and western part of India.
All married women dedicate this puja to husband for the well being of a partner in the critical situation. At the end of fasting, in the evening people perform puja to the full moon and when the moon reflects on the husband image. Who followed the victim truly then the only wife can see her husband face.
When to Perform Karva Chauth Puja
Karva Chauth puja is performed on the Kartika month after the fourth day of Purnima.Puja Steps for Performing Karva Chauth Puja
Wake up early, before the Sunrise and do the bath, Clean the entire house.

Decorate the house and puja Mantap with flowers.

Fasting women can eat milk and fruits in the early morning and don't eat till night.
Take the carved Deepa(Matti deep), puja materials, coconut, milk, and fruits for offering to God.
Spend the entire day by chanting god name. Pray for the husband long life.
Manjunatha J C23/05/2019 1:59:23 PM

I am so happy to read this blog most. Lakshmi means wealth and prosperity who can do pooja for lakshmi devi on fridays can resolve financial problems in their life.

Nandini03/05/2019 3:06:32 PM

Is there any reason behind liting diyas and make it drift in river or ponds near temples? Why it is so important to do that during diwali or during lakshmi puja?

Rekha K Desai03/05/2019 3:03:47 PM

Why do we perform Lakshmi pooja, especially during Diwali?

Puja N Pujari26/03/2019 8:04:06 AM

Hi rathna, Goddess Laxmi's frame face should face East direction. And you should face sittingNorth direction.

rathna25/03/2019 8:42:12 AM

Which direction should Lakshmi face at home?