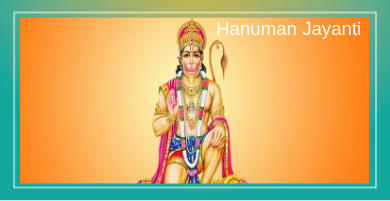 Published By : Satish
Updated On : 20/08/2019
Published On : 08/04/2019
Hanuman Jayanthi Date - 19th April 2019
Hanuman jayanti is the Indian festival to celebrate the birth of Lord Hanuman. It is also said that Lord Hanuman was the incarnation of 11th Rudra avatar of Lord Shiva. He is also known as the Vanara God. He played an important role in Ramayana and was a devotee of Lord Rama. He is being revered for his strength, wisdom and dedication towards his God.
When and How to Celebrate Hanuman Jayanthi
Hanuman jayanti is celebrated on 15th day of shukla paksha in chaitra masa every year, a week after Rama Navami. On this day people have bath and visit hanuman temples to offer prayers and read hanuman chalisa. Hanuman chalisa is a specific poetry dedicated to Lord Hanuman and is assumed to be very effective when chanted daily and specially on hanuman jayanti. Worshiping him imparts us with immense strength and helps in fading away fear. It is believed that chanting the chalisa and performing aarti removes evil spirits and enemies from an individuals life. In every Indian household he is being worshiped be it north India, south India or any where else. These chalisa and hanuman aarti books are easily available every where in almost all Indian languages.
Significance of Pancha Muka Hanuman Aarti
Panchmuka Hanuman is one of the avatar of Hanuman himself. He appeared in panchmuka appearance when Ramayana was going on. As per the ancient history ravana took the help of King "Mahiravan" to kill Rama and succeed. "Mahiravan" was the king of patal lok and one morning during the fight, he took Rama and Lakshman with him by disguising himself as Vibhishan. To bring his lord back, hanuman took the incarnation of "panchmuka".
In this form Lord Hanuman had five faces as Hayagriva, Narasimha, Hanuman, Varaha and Garuda, where first three forms represents Lord Vishnu. Worshiping Panchmuka hanuman on Hanuman Jayanthi is a special
Hayagriva: This face of hanuman faces towards the sky and imparts us knowledge.
Narasimha: Narsimha faces south and makes us fearless and courageous.
Hanuman: It faces towards the East direction and blesses us with fortune and fame.
Varaha: Varaha faces north and gives us wealth.
Garuda: Garuda faces west and supports us from evil spirits.
History About Hanuman Jayanti
The history behind hanuman jayanthi relates his mother "anjani". As per ancient history it is said that "Anjani" was a celestial women in the court of Lord Indra, but once she danced in fornt of the sage rishi Angira who cursed her. This curse is assumed to be a boon who let her took birth as a monkey and got married to "Kesari" who was the king of Mount Sumeru. Anjani was so beautiful that once the lord of Vayu got attracted to her, and carried the power of Lord Shiva to Anjani's womb. Hanuman was born to Anjani and got famous as "Anjaneya" or "Anjani Putar".
Hanuman Chalisha Benefits
Hanuman Chalisa is a cluster of 40 poetic verses of lord hanuman written by highly acclaimed poet "Tulsidas". It is said that Tulsidas was jailed by Kind Aurangzeb where he wrote the hanuman chalisa and after the completion a group of monkeys helped him get rescued. This chalisa is an immense source of strength, power, fearlessness and divinity. Reciting these verses daily in the morning instills sacredness and purity in our heart.
It gives strength and power to fight for evil spirits.
It helps to establish peace and prosperity in one's life.
Reciting of hanuman chalisa also helps to remove the malefic effects of planet Saturn or Shani Dev.
Placing this chalisa inscribed on a booklet under a pillow helps to fight fear.
One can also get free of his bad deeds by reciting these verses daily and following a correct path.
These Hanuman Chalisha booklets are available in all Indian languages like Hindi, Telugu, Kannada, Marathi and many more and is easily available every where. Along with hanuman chalisa, hanuman gayatri mantra is also famous among his disciples.
"Om Aanjaneyaya vid-mahe,
Vaayu-putraaya dheemahi,
Tanno hanumath prachodayaat"
Hanuman gayatri mantra is recited to improve ones devotion, dedication and sacredness towards the almighty.
It helps make all the wishes come true.
It also helps to remove any effect of black magic and other negativities.
Swetha23/05/2019 1:34:08 PM

Nice blog post for Hanuman Jayanthi. Hanuman Chalisha is very powerful mantras who read chalisha daily protected by all evil spirits and goes your life very well.

riddhi18/04/2019 11:30:48 AM

Where did hanuman born? What the placed called in modern India.

Sarath18/04/2019 10:33:06 AM

Hanuman chalisha is very powerful and most of the Hindus believe that reciting the hanuman chalisha helps to remove the criticle problems facing in their life.

Hemavathi16/04/2019 1:47:43 PM

Great information about hanuman jayanti and hanuman chalisha. What are the fasting procedure on this auspicious day?