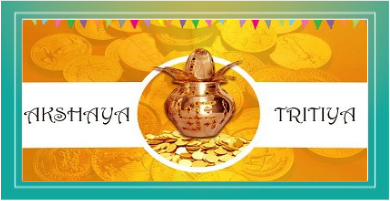 Akshaya Tritiya 2019 Date: Muhurat Timing, Puja Vidhi & Benefits
Hindu mythology is full of cultural and traditional customs according to which some days are considered inauspicious whereas some days are very auspicious and Akshaya Tritiya is one such day. It is believed that any prosperous work can be carried out on this day because this day is free from any kind of malefic effects. Along with it "Bijoyadashmi" and "ugadi" are also considered very auspicious and one can start new ventures, perform marriages etc without any negative effects. Any individual starts his/her career on this day, gains profit and positive growth.
Occurrence
Akshaya tritiya is celebrated during Shukla Paksha Tritiya of the month "Vaishakh" and when it coincides with "Rohini nakshatra on Wednesday" then it becomes even more auspicious and important.
History
Many historical evidences are there and as per ancient history, Satya yug and Treta yug started on this day whereas Lord Ganesha started writing the Hindu epic scripture "Mahabharata" on the lives of "panch pandava". It is also said that Lord Krishna visited to his friends house and bestows him with lots of money and jewels on this special day and even it is also celebrated as the birth anniversary of Lord Parshurama who was known as the sixth incarnation of Lord Vishnu.
Significance
Being a highly auspicious and spiritual day its a belief to buy gold and do investments on this day. Buying gold bestows us with wealth, health and prosperity thus making us happy.
Akshaya Tritiya Puja Vidhi
Akshaya Tritiya is a very auspicious occasion which is very sacred and pure and offering prayers to the almighty god on this day imparts us with all our wishes come true. Cleaning the worshiping place and decorating it with beautiful flowers makes the place sacred and pure.
Establish newly made Lord Vishnu's and Lord Ganesha's idol in your worshiping place.
Applying tilak in Hindu mythology is assumed to be very pure and sacred and so we apply sandalwood tilak to the almighty.
Akshya tritiya prasad's are made from milk, rice and chana dal and is offered to the god.
Chanting of prayers to Lord Vishnu, Lord Ganesha and goddess Lakshmi is done.
"Om gan ganpataye namah, vakratunda mahakaya suryakoti samaprabha, nirvighnam kurume deva sarvakaryeshu sarvada"
"Om shree maha lakshmyai cha vidmahe, vishnu patnayai cha dheemahi, tanno lakshmi prachodayat om"
"Kubera twam danadeesam gruha te kamala sithta, tam devan prehayasu twam madgruge te namo namah".
5. Perform the Aarti and distribute prasad to the worshipers.
What to Donate on Akshay Tritiya
This being a very auspicious day, offering prayers to the almighty on this day imparts us with his blessings and boons, but only offering prayers never make things easy but doing deeds automatically pacifies the god. Its always advised to do good, donate necessary things and helping to the needy on this day which in turn gives us immense blessings.
As per ancient history also it is said that once a "merchant" donated his belongings and other necessary items to the needy and got the rebirth as a king in his next life. Many such stories are their and is said that following the same path also gives us pleasure and success in life.
Milk
Sugarcane juice
Money etc
Are some of the items which can be donated to the poor and needy.
Significance of buying gold on Akshay Tritiya
Being a highly auspicious day its a belief to buy gold and do investments on this day. Buying gold bestows us with wealth, health and prosperity.
Hemanth25/04/2019 3:08:54 PM

Great information for Akshaya Tritiya. This year we are planing to celebrate akshaya tritiya but don't know what pujas we do on that day. Kindly provide what pujas performing on particular day ?